Archived News Item
Celebrating Mercy presence in South Grafton
April 22, 2010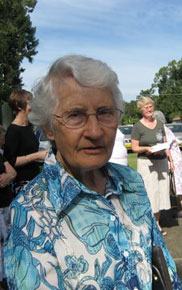 On Sunday April 11, Grafton Sisters of Mercy and parishioners of St Patrick's, South Grafton gathered to mark 121 years of Mercy presence in the parish. "An unusual anniversary to celebrate, you might think," writes Colleen Rhodes RSM, "but with Margaret Seery RSM finishing her time as Pastoral Associate, it was also time for the sisters and parishioners to mark the end of a long and fruitful Mercy presence in the parish."
In 1889, the Sisters of Mercy took responsibility for a new school which replaced the first Catholic school in the Diocese of Lismore. When the sisters handed the school to lay administration and lay teachers, they moved into full time pastoral ministry amongst the people.
Now, the formal relationship has ended; Mercy Associates and others who have imbibed the Mercy spirit are asked to carry Catherine's message and legacy to future generations in South Grafton.
After a wonderful celebration of the Sunday liturgy, Parish Priest, Father Garry Hayes, thanked the Sisters of Mercy for their contribution to the life of the parish and noted how Sister Margaret is loved by the people.
Barbara Bolster RSM, Grafton Congregation Leader, spoke briefly of the sisters' association with St Patrick's Parish over 121 years, and presented Father Garry with a Mercy cross to be placed in the church as a testimony to the work of the sisters since 1891. DOWNLOAD Barbara's address here (PDF).
Jim Muldoon crafted the cross from Australian red cedar, ebonized cedar and hoop pine, all of which are local timbers much admired by the sisters arriving in Grafton in 1884.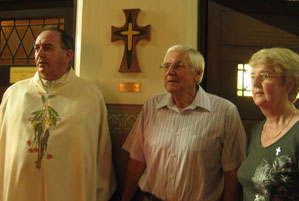 On behalf of the parish community, Father Garry then presented Sister Barbara with a beautiful icon of the Madonna and child. It had been prepared by Father John Casey, Parish Priest of Sawtell, who is known throughout the North Coast for his art works.
After ceremonies at the church had been concluded and photographs taken, parishioners and sisters re-gathered at the Golf Club for refreshments and more speeches and presentations.
The school community thanked Sister Margaret for what she had been for them during her 12 years at South Grafton. Other parishioners spoke and eventually two cakes were cut – one for Sister Margaret and one for all the Sisters of Mercy.
Sister Margaret Hogan RSM, the oldest active member of our community, helped Sister Barbara to cut the second cake. Needless to say, both were shared equally amongst all those present!
The Sisters of Mercy are grateful to the people of South Grafton for the support they have given us and are confident that the spirit of Catherine McAuley will continue to find a home in the communities of St Joseph's School and St Patrick's Parish.
From: Colleen Rhodes RSM (Local Communications Facilitator, Grafton)