Archived News Item
Celebrating 50 Years of Mercy
July 27, 2017
On Wednesday, July 5, three Sisters of Mercy gathered in Townsville to celebrate their Golden Jubilee. Carmel Ruddick rsm, Cheryl Camp rsm and Mary Lowcock rsm were three of eight women who entered the Sisters of Mercy in early 1965 and they joined together to celebrate fifty years since their first professions which took place on October 7, 1965.
More than 400 people attended the Mass at the Holy Trinity Church, Mundingburra. Among the large congregation were friends, family, former colleagues, school friends and members of ministry.
Mount Isa Parish Priest and brother to Mary Lowcock rsm, Father Mick Lowcock was the presider for the Eucharistic celebration. Bishop Tim Harris attended the celebration and said a few words at the end of the liturgy. Fr Lowcock had just returned from the House of Mercy in Baggot Street, Dublin where he spent a few nights and at the mass he spoke about Catherine McAuley and shared his recent experiences.
Morning tea followed the mass. Of the celebration, Carmel recently told The Catholic Leader "It was one of the happiest days of my life."
Cheryl added, "the greatest blessing was to have our families there who have been there supporting us all our lives since we entered the convent."
The ministries of these three Sisters have been many and varied. After entering the Congregation of the Sisters of Mercy of the Diocese of Townsville all three Sisters trained to become teachers and in the 70s and 80s ministered in the education field as teachers and principals of schools. During the 80s their ministries changed and have since been many and varied. At different times both Carmel and Mary were part of the leadership team of the former Townsville Congregation of the Sisters of Mercy.
Cheryl spent many years in Papua New Guinea, Pakistan and Australian Aboriginal communities in Townsville and the Kimberley, working in education, administration, pastoral care and spiritual formation.
For Carmel ministries extended to spiritual direction and retreat work; parish leadership; high school chaplaincy and pastoral care within a hospital setting and with asylum seekers. She is currently the Pastoral Coordinator for the Sisters of Mercy in the Townsville region.
Mary's ministries included being the leader in a parish; Director of Catholic Mission in the Archdiocese of Brisbane; Executive Officer for Catholic Religious Australia, Queensland. Mary believes that the most important of her ministries was when, for ten years when the late Bishop Benjamin was the Bishop of Townsville, she was responsible for Pastoral Planning within the Townsville Diocese. This ministry led to many major changes within the diocese at that time.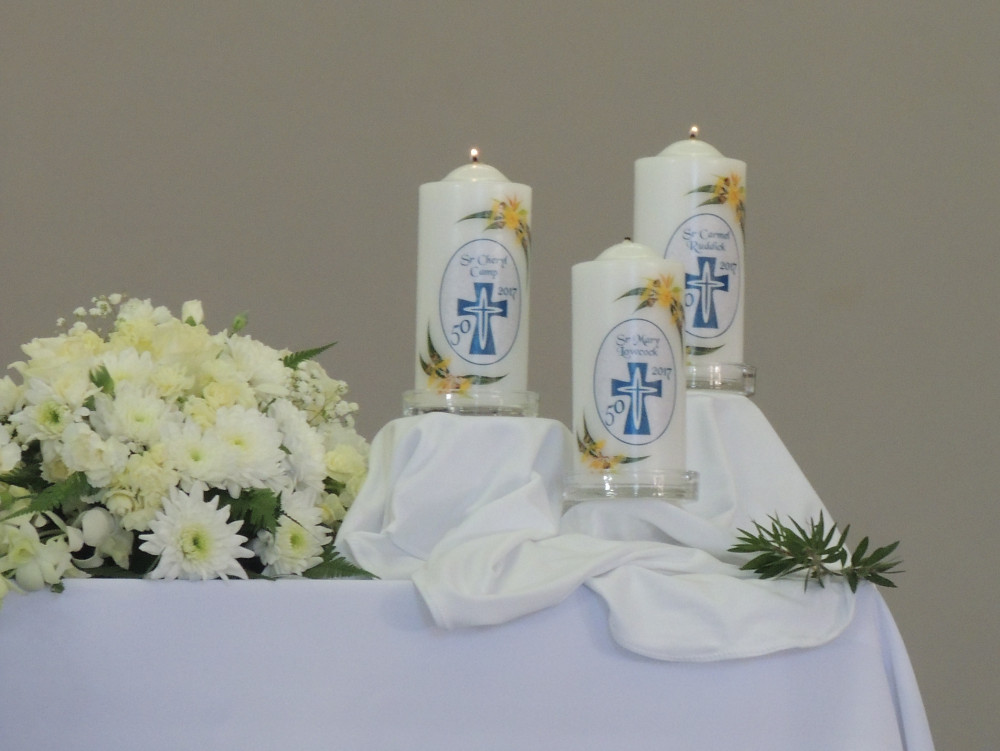 After 50 years as professed religious Sisters of Mercy, the jubilee and celebration with family and friends was a joyful one for all three Sisters. Sr Carmel and Sr Mary both delivered emotional thank you speeches that were enjoyed by all in attendance.
Congratulations and thank you to these three Sisters, and the many wonderful Sisters of Mercy, celebrating their jubilees this year.
Messages to: Mary Lowcock rsm, Carmel Ruddick rsm, Cheryl Camp rsm
CLICK HERE TO RETURN TO JUST MERCY