Archived News Item
Celebrating 40 years of Mercy care
November 9, 2006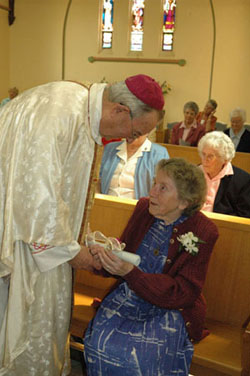 A series of celebrations to mark the fortieth anniversary of the opening of St Catherine's Rest Home at Bathurst were held during October.
Now know as St Catherine's Aged Care Facility, St Catherine's has grown from a retirement home for Sisters of Mercy of the Bathurst Congregation to a 69-bed nursing home and hostel with a unit for special needs residents.
The week's celebrations began with a Mass in the chapel at St Joseph's Mount celebrated by Bishop Patrick Dougherty DD, Bishop of Bathurst. During Mass, all sisters who have been in ministry at St Catherine's were acknowledged, with some of the current residents being recognised for their quiet mercy presence in the hostel.
Other celebrations included gatherings for residents, family and friends of both the nursing home and the hostel and a special ceremony for the staff. The halls and foyer displayed photos and memorabilia from the forty years.
The particular influence of Catherine McAuley's spirit to the development of the staff's sense of mission was acknowledged by the presentation of a cup and saucer lapel badge. This badge was given for the first time to long-serving staff members. The "˜comfortable cup of tea' phrase as shorthand to describe the commitment of the staff to the way they interact with each other and with residents ensures that the quality of care will always have a "˜mercy' flavour.
Photo: Sister Dolores Sheehan RSM receives a certificate from Bishop Dougherty acknowledging her ministry at St Catherine's Aged Care Facility, Bathurst.
Photo: St Catherine's Hostel, Bathurst.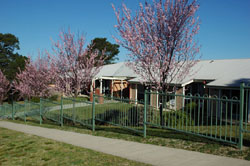 From: Sister Ann-Maree O'Beirne RSM (Local Communications Facilitator, Bathurst)
Email: aobeirne@mercy.org.au