Archived News Item
Celebrating 120 years of ministry in Cairns
March 12, 2008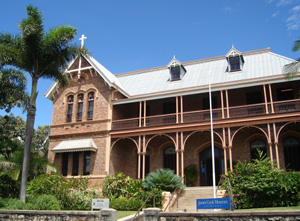 2008 marks an important milestone in the ministry of the Sisters of Mercy in the Diocese of Cairns. On June 24 1888, five Sisters of Mercy from the congregation in Dungarvan in Ireland sailed into Cooktown, becoming the founding sisters of the Cairns congregation.
Those sisters were Mother Mary de Sales Meagher, Sister Mary Evangelist Morrissey, Sister Mary Rodriguez Sheehy, Sister Mary Josephine Jones and Sister Mary Joseph McGrath.
During 2008, the sisters will host a number of special events around the diocese to celebrate this special moment in their history. Their intention is to have at least one major celebration in each of Cooktown, Cairns and Herberton, the three major locations in which the sisters have been based.
In these various celebrations, the objective is to thank the many thousands of people who have been partners in the various ministries the sisters have undertaken over the last 120 years. They also will be highlighting their on-going ministries, including their current focus on the transition to lay involvement and leadership of their ministries.
Some of the major events that will be held to celebrate this special milestone are:
June 22 Mass at St Mary's Church, Furneaux St, Cooktown; followed by lunch for parishioners
June 23 Public function in Cooktown to celebrate the arrival in June 1888 of founding Sisters of Cairns congregation
September 21 Mass at St Monica's Cathedral followed by a garden luncheon in grounds of St Monica's College
December 12 Mass at Mt St Bernard College to celebrate Mercy Foundation Day
During July and August, sisters will visit each school in the diocese where they have served in the past or remain involved in ministry now. As well, a Mass will be celebrated in the parishes where sisters have served, mostly during September.
Mercy congregations in Australia will soon receive information from Congregation Leader Sister Faye Kelly RSM with further details and an invitation to attend. As well, information can be obtained by phoning (07) 4054 1106, the Mercy Administration Centre in Cairns.
Photo caption: The original Convent of Mercy in Cooktown was and remains one of the grandest buildings in this former gold-mining town. It is now the James Cook Museum, and houses a display about the service of the sisters in the diocese.