Celebrating 120 years of ministry in Broken Hill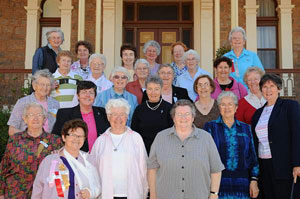 A group of Sisters of Mercy of the Wilcannia-Forbes Congregation recently made a pilgrimage to Broken Hill in western NSW to celebrate 120 years of Mercy ministry in the town. The 20-strong group was joined by a number of sisters from the Singleton and Melbourne Congregations. Nance Cale RSM (Wilcannia-Forbes) reports on the three-day experience.
Since the last Wilcannia-Forbes Sister of Mercy, Lorna Blackhall, left Broken Hill at the end of last year, it has been the dream of Wilcannia-Forbes Congregation Leader, Patricia Lynch RSM, that we make a pilgrimage there to celebrate 120 years of our Mercy ministry in that far-flung desert city. She put much preparation and planning into making the pilgrimage a reality.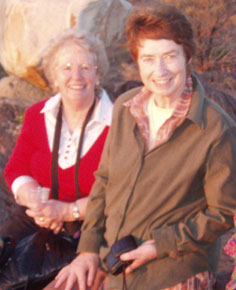 The many practical aspects of the pilgrimage were put in place by Margaret McGrath RSM, who is Principal of St Therese's Community School in nearby Wilcannia. History records for us that there were up to 78 Sisters of Mercy in Broken Hill in flourishing days.
Twenty Wilcannia-Forbes Sisters of Mercy, who ministered in Broken Hill, were able to make the pilgrimage. We were joined by four Singleton Sisters of Mercy, from where the congregation was founded on February 19, 1889. The four included Elizabeth Callen RSM, the great-grandniece of Mother Josephine Callen, the foundress of Broken Hill.
There were also four Sisters of Mercy from Melbourne who joined us for the celebrations.
The restored Convent of Mercy, which was burnt due to a fire, was like a welcome coming home. The Community Church of Christ purchased the burnt-out building and have restored it to its former glory – much updated from our earlier years.
All the sisters were accommodated in the renovated convent and the Community Church served us breakfast each day in our original refectory which was a very nostalgic experience.
On the top balcony of the convent overlooking the mining city, the members of their church served us lunch. What a wonderful ecumenical experience!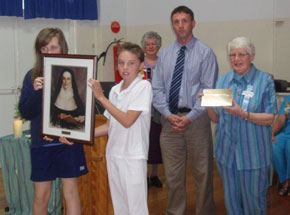 All of us visited Sacred Heart School where a picture of Catherine McAuley and a plaque were presented to the school commemorating our 102 years of education in Broken Hill.
A special prayer ritual was held at the cemetery as sisters and parishioners gathered to remember and pray in thanksgiving for our 40 sisters buried there.
Sacred Heart Parish organised a BBQ and many former pupils, families and friends met with great joy.
All visiting sisters travelled to the outback Sculpture Symposium to enjoy wine and cheese as we enjoyed the colours of the sunset as a symbol of the sun setting on the 120 years of Wilcannia-Forbes ministry.
This was a sacred time for us all as we sat quietly and said our personal, silent goodbyes with hearts filled with gratitude for our years in this 'Silver City' in the desert.
Father Alister McLean, long-time friend of the Sisters of Mercy, celebrated Mass in the Cathedral where so many old friends, pupils, families and parishioners gathered with the sisters. A Catherine McAuley picture and a plaque to commemorate 120 years of Mercy presence and service, to be placed in the Cathedral, was presented to Father Sunny.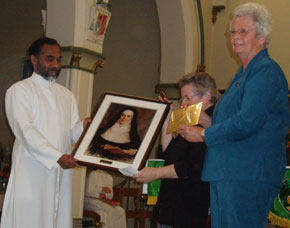 Words cannot express the fantastic experience, and thrill in the hearts of the sisters and the people of Broken Hill. It was truly a time of unexpected joy and gift to us all. Many old friends said, "You don't know what you have done for us by this wonderful visit! We know we are not forgotten. You are forever in our hearts".
So many people came to the airport to see the sisters off and their waving as the plane took off will not be forgotten. The gift of God's mercy continues forever!
From: Nance Cale RSM (Local Communications Facilitator, Wilcannia-Forbes)