Archived News Item
Celebrating 100 years of Mercy endeavour
September 8, 2009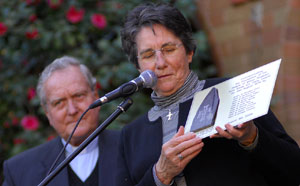 Saturday August 8, 2009 marked the centenary of the opening of Singleton Mercy Convent in the NSW Hunter Valley. "It was a commemoration of not only a construction," writes Singleton Sister Val O'Hara RSM, "but more truly what the building represented – 100 years of Mercy endeavour, begun by ten valiant women and continued by many more."
On Saturday, August 9, about 600 people gathered to celebrate with great joy the centenary of a great accomplishment of our early pioneers – the completion of the Convent of Mercy in Singleton. It was a commemoration of not only a construction but more truly what the building represented – 100 years of Mercy endeavour, begun by ten valiant women and continued by many more.
At the conclusion of the ceremony, Bishop Michael Malone unveiled a plaque bearing the names of the pioneer women, led by the intrepid Mother Stanislaus Kenny. This plaque will remain on the wall of the entrance of the convent as a permanent reminder of their courage, their faith and their extraordinary confidence in God.
For the sisters who attended this celebration, it was a day of great connections – we connected with our past founding sisters and those who have followed them; we connected with family and friends, acknowledging the many sacrifices made by those who have supported us throughout these many years; we connected with past and present colleagues, especially those women who walked with us for a time until called by God to new vocations; we connected with many Mercy Associates who travel with us in prayer and action; we connected with the people of Singleton who have long been our staunch companions on the Singleton Mercy Journey.
It was a day of prayer, of reflection, of sharing, of discovering new aspects of 'belongingness'. Choirs sang, musicians played, the Singleton Town Band demonstrated the same enthusiasm their forebears had done on Opening Day in 1909!

There were exhibitions of materials related to the history of the founding women and after a ceremony of speeches, prayer and a blessing from Bishop Michael Malone, there was a magnificent Devonshire afternoon tea served on the back cloister.
At the beginning of the ceremony, Sister Faith Jones RSM, (Congregation Leader, Singleton), gave an address. Extracts of it are given here:
"This song entitled Standing on the Shoulders by Joyce Johnson Rouse can speak to our story thus far.
I am standing on the shoulders of the ones who came before me.
I am stronger for their courage, I am wiser for their words.
I am lifted by their longing for a fair and brighter future.
I am grateful for their vision, for their toiling on this earth.
"Yes, the sisters who came before us, responded to the needs of the times with great vision and courage, with toiling and longing for a fair and brighter future for those whom they served…
"So as we acknowledge those women who were God's instruments for the charism of mercy in the tradition of Catherine McAuley coming to Singleton 134 years ago, let us hold in our minds and hearts those women and men who have collaborated and still collaborate in the mercy ministries owned and or sponsored by the Singleton Sisters of Mercy.
"As the Sisters of Mercy continue to face the questions about the future, we would hope that this sacred place would continue to be a place of blessing for those who come behind us!"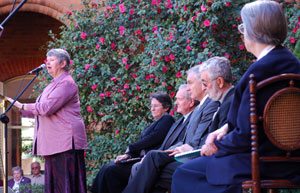 Sister Caroline Ryan RSM, (pictured right) Vice-President of the Institute of Sisters of Mercy of Australia, spoke to the gathered assembly about this commemoration being more than a celebration of a past heritage:
"Heritage, we know is not merely about the past. It is not only about careful preservation of what was. As the cultural and inspirational power of a people, it is dynamic. From a religious perspective and in the language of our faith, heritage continues to enliven our souls and offer us purpose beyond ourselves, beyond the immediate… The real work of our heritage is to probe and ponder the realities of our day. "What is it that God's ever-new and sometimes disturbing Word, is asking of us these days?"
How we answer this will mature our heritage and enable us to create new and exciting chapters in our sacred story… this pressing question and others, are occupying the Singleton sisters in relation to their own heritage. As they engage with them, may they continue, individually and as a community, to be graced with fidelity, imagination, generosity and courage that have given Gospel character to their story from 1875 until today."
At a gathering of Mercy Associates after the event, some of the group offered these comments:
"It was a day of great beauty, not just the setting, although the building both inside and out is quite astonishing, but of music and people and friendships renewed. There was such an incredible history shared and I appreciated it all so much."
"Such a sense of great openness and welcoming. I thought that convents were dark and cold. This day revealed another aspect of lives lived with great love and in incredible beauty. I want to go back for another visit so that I can savour this sacred place."
"I couldn't help but think of the ripples of Mercy over these 100 years. Not only in the immediate work of the sisters, but in the thousands of lives influenced by them: all those students they taught who would become parents and pass on Mercy values; the teachers and other colleagues who shared their labours and learnt from them about Catherine McAuley and the Mercy of God – it was a wonderful day."
The Mercy journey of the Singleton Sisters as revealed in the building and in the exhibitions has indeed been one of "light and shadow". This day of commemoration reminded us all of the extraordinary courage and commitment of those who travelled across the seas to answer God's call to serve the poor in Australia. After 35 years, Mother Stanislaus was able to write about the wonderful increase in vocations as Australian, Irish and New Zealand women joined the fledgling community. She concluded: "Not to us, o Lord, but to your name give glory."
At the end of this celebration we echo Catherine McAuley's words when she wrote after yet another long and tedious journey in the making of a new community: "Hurrah for foundations, makes the old young and the young merry."
From: Val O'Hara RSM (Singleton)