Archived News Item
Jubilee Celebrations Across the Institute
March 5, 2020
Undoubtedly a highlight of each year is the celebration of Jubilees across the Institute, as we acknowledge and give thanks for the fine Mercy women who are celebrating the Jubilee of their profession. Recently, Jubilee celebrations have been held in Mt Hagen, Brisbane and Adelaide. 
Mt Hagen Silver Jubilee 

On Sunday December 15, 2019 Sr Cathy Jambet celebrated her Silver Jubilee at St. Arnold Parish, Kumdi, Archdiocese of Mt Hagen, Papua New Guinea. Here is a short Reflection by Cathy:
"Jubilee, is the time to pause, to reflect, to wonder and to give thanks to God and to the generous people who have  journeyed all through my life as stars directing the way to discover the source of life. As I reflect upon my life, I can't thank God enough for God's merciful love that always surrounded me with gifts of people who bless me every day of my life.

Thank you Sr. Bev Whitton and the Sisters of Mercy throughout the Institute for journeying with me to be who I am to this stage of my life. Your support both spiritually and physically has helped me in my life's journey and I am grateful. I thank God for being a gift to me, many blessings to each of you!

Thanks to my family members and the community who always support me to be firm in my vocation both in good and challenging periods. The outcome of their support and yours was evident at the time of my Silver Jubilee celebration and I am grateful of you. The Eucharistic celebration went quite well with the choir.

Thanks to all of you who were unable to come but graciously sent cards, thoughts and prayers for me on that day, December 15, 2019, It was greatly appreciated."
Brisbane Golden Jubilee 

On Saturday January 25, 2020 (just before the really big wet began in Brisbane!) family, friends and Mercies gathered at Virginia Golf Club with Bernadette Ahearn RSM to celebrate the Golden Jubilee of her religious profession. Other Jubilarians present included Rosie Carroll RSM (Diamond) and Kerry Gordon RSM (Golden). After acknowledging the Turrbul people on whose land we gathered, Carmel Dwan RSM led the Prayer Ritual during which Bernadette renewed her vows. The ritual included the hymn I Trust Him, I Hope in Him, the lyrics of which Bernadette had written and Sue Witham had composed the music during their postulancy in 1967.
As Master of Ceremonies for the occasion, Mary Lowcock RSM ensured a warm-hearted, relaxed and enjoyable time along with Marg Endicott RSM who raised the toast; Anne Hetherington RSM who prepared a bird's eye view of Bernadette's life (so far) though a PowerPoint presentation as well as making and decorating the Jubilee Cake; and Sr Carmel Ruddick and Ms Bronwyn Bell who led the community singing of appropriate hits of the 1960's and 1970's. In true form, Bernadette's response at the conclusion of the celebration was short, meaningful and delivered in verse.
Adelaide Jubilees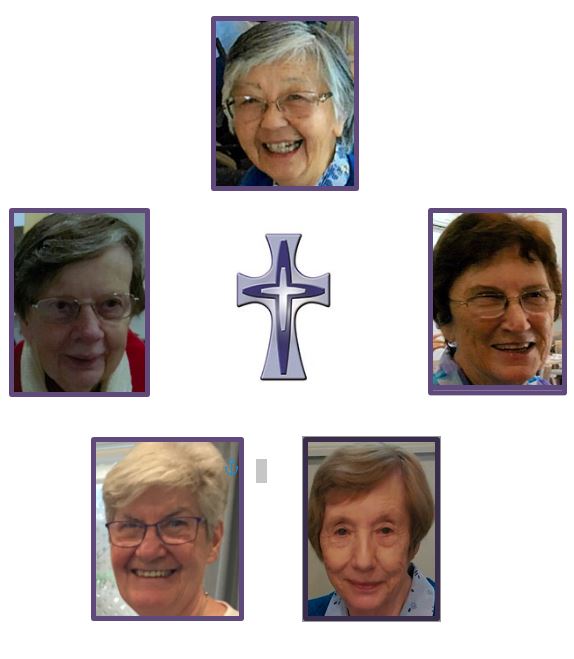 On Saturday February 8, Sisters gathered for Mass at the Angas Street Chapel to celebrate the Jubilees of five sisters –
Diamond – 60 years (in order of the photos above)
Patricia Pak Poy RSM
Mary Harvey RSM
Kathryn Travers RSM
Golden – 50 years
Mary-Anne Duigan RSM
Ruby – 40 years
Gloria Lord RSM.
Father Maurice Shinnick presided at the Mass, which commenced with a welcome from Community Leader, South A Adelaide, Nola Morrissy RSM. During the Mass the Jubilarians were presented with a candle and invited to renew their vows:
God of all Mercy,
in the name of Jesus Christ,
and under the special care of Mary,
the Mother of Mercy,
I, N…………………
vow to you chastity, poverty, obedience
and apostolic service through the works of mercy according to the Constitutions of the Institute of Sisters of Mercy of Australia and Papua New Guinea.
This was then followed by the beautiful singing of Catherine McAuley's 'Suscipe'.
Following the Mass, a celebratory lunch at the Highway Inn in Plympton was enjoyed by all.
Congratulations to all of those sisters celebrating their jubilees this year.