Archived News Item
Catholic Centenary Mildura
April 3, 2006
Many local parishioners, visitors from afar and past students of schools in the area converged on Mildura for the long weekend in March to celebrate three significant occasions. It was a hundred years since the parish of Sacred Heart became a parish in its own right instead of being a mission outpost of Charlton, the Sisters of Mercy arrived in the area from Wentworth and Catholic Education commenced in Sunraysia.
Several important events were planned to facilitate the celebration of these happenings.
Festivities commenced with registration at St Joseph's College Stadium on Friday evening, March 10 and it was heart warming to see two ladies, who had not met for sixty three years, greet each other. A pleasant evening was spent meeting and greeting friends and acquaintances, and enjoying some nibbles and sampling the Centenary Wines which were bottled by Trentham Estate Winery. The exhibition of artistic works of many past pupils were admired by many.
Saturday morning, March 11 saw many Sisters of Mercy, past students, relatives and friends of the Sisters gather at the Cemetery in Nichols Point for a Remembrance Service for the pioneer Sisters of Mercy who lie buried there.
From 1pm on Saturday, March 11, past students flocked to Sacred Heart School and St Joseph's College for School reunions organised in decades. Of special interest and attraction were displays of memorabilia of the various decades, the highlight being tours of the former Convent which is now refurbished as the Mercy Centre.
During the course of the afternoon a bronze memorial depicting the history of the Sisters in Mildura and the current educational experiences of students at St Joseph's College was unveiled and blessed by Bishop Christopher Toohey of Wilcannia Forbes as it was from this Diocese that the Sisters came to Mildura. This inspiring piece of sculpture is the work of Sr Gael O'Leary, a talented Sister of Mercy from New Zealand.
An enjoyable time was had by those who attended the Centenary Gala dinner at the Da Vinci Club on Saturday evening. Among the invited guests were Bishop Peter Connors, Bishop of Ballarat; Bishop Christopher Toohey of Wilcannia Forbes; Monsignor Les Tomlinson, (former pupil of St Joseph's College) and current Vicar general of the Archdiocese of Melbourne as well as Sr Kathleen Tierney, (another former pupil) and now Congregational Leader of the Sisters of Mercy and approximately thirty other Sisters who have at some time worked in the Sunraysia area. Features of the dinner included memories and trivia from the life of the parish, Sacred Heart School, St Joseph's College and the lives of the Sisters. James Haenen (former pupil shared many memories of his father John and his relationship with the Sisters as he worked in and cared for the Convent garden for fifty years.
Sr Sylvia Williams, current principal of St Joseph's College, launched a CD and a DVD, compiled by Camilla Elliott, which is a "potted" history of various elements of Sacred Heart Parish, the Sisters of Mercy and the five schools they commenced here in Sunraysia.
Father Tom Brophy PP, launched the book "Our Priests", an early parish history compiled by Regina Fitzpatrick. Regina was assisted in this work by Raylee Schultz, who gathered much of the history of the parish.
The highlight of the weekend for many was the Mass of Thanksgiving on Sunday morning, attended by over a thousand people, where in an inclusive liturgy, recognising the gifts and talents of many, and of the different ethnic groups in the Parish, all present gave thanks to God for the blessings of the last one hundred years, and prayed for the grace to remain faithful to the Gospel in the future.
New, colourful, stained glass windows depicting life in Sunraysia and the importance of faith in our lives designed and executed by Mr David Davies were also blessed as part of this liturgy.
This was followed by a lunch in Sacred Heart Hall where sharing and reminiscing continued unabated. The centenary cake was cut by two very senior parishioners, Mrs Eileen Hillman and Mr Michael Smith (both 92 years of age).
Of special interest to the Fitzpatrick family was the rededication of the original Catholic Church now that it has been placed in the grounds of St Paul's School and refurbished. Members of the Fitzpatrick family were instrumental in organising the construction of this Church originally built in Pine Avenue in1896. The building has served in many capacities as part of the Convent and boarding school, as a venue for "˜pleasant Sunday afternoons' for fund raising efforts as well as being used as an Religious Education Centre, for wood work lessons, as a drama centre and as a temporary library. People are delighted that it has been restored to its former use and it will once again serve as a haven for those requiring time and space for prayer and reflection. Gratitude was also expressed for the foresight of Monsignor Frank McKenzie who more than thirty-four years ago envisaged a church among the trees (Mac's Patch) he planted and watered most faithfully.
On Monday, March 13, the parishioners gathered again in Sacred Heart Church to ask God's blessing on all the priests who have served them over the years. All were inspired by the homily preached by our senior priest in the area Father Frank Monaghan who urged us to remember the past with gratitude, to look forward to the future with confidence but above all not to neglect the present "now" which is where God works through each of us. Approximately thirty priests were in attendance and they were given a standing ovation at the conclusion of Mass.
This Centenary celebration has been a time of many mixed emotions, inspiration and gratitude for many people and the parishioners are very happy that so many came to share this wonderful weekend with them.
Sister Carmel Hinkley admires the bronze memorial by Gael O'Leary RSM unveiled during the Centenary Celebrations in Mildura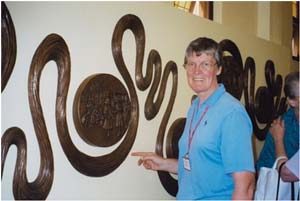 In the bronze there are fourteen roundels; seven depicting the history of the Sisters in Mildura and seven depicting experiences at St Joseph's College at the present time.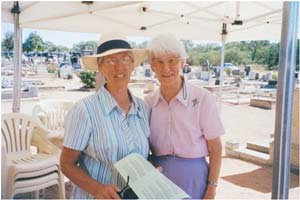 Priests assembled with Bishop Connors prior to Mass on Monday March 13 which concluded the celebrations.
Left to right:
Front row – Bishop Peter Connors, Frs Frank Monaghan, Tom Brophy, Marcello Colasante, Edward Moloney, Brendan Davey.
Back rows – Mons Les Tomlinson, Frs Peter Claridge, Adrian McInerney, Adrian Noonan, John Pothiyittel, Peter Hudson, Wally Tudor, Bill Melican, Gerry Prunty, Peter Sherman, Paddy Bohan, Dan Arundell, Rupert Bowd, John McKinnon, Pat Flanagan, Les Sheahan, Don Gunn, Kevin Murphy, Brendan Smith, Eugene McKinnon, John Monaghan, Paul Mercovich.
Fr Pat Mugavin missed the photograph.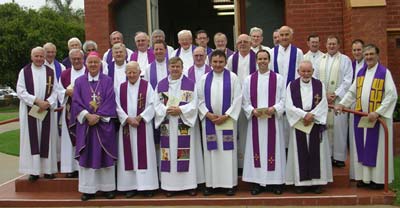 Messages to Rosemary Graham rsm