Archived News Item
Catherine's canonisation cause: an update
May 24, 2007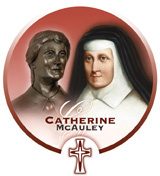 At a recent gathering in Dublin, sisters who represent their country as contact persons for Catherine McAuley's canonisation cause met with the Postulator, Brenda Dolphin RSM. Sister Mary Duffy of (Melbourne), who is Australia's representative, reports on the gathering.
At a recent gathering in Dublin, sisters who represent their country as contact persons for the canonisation cause for Catherine met with the Postulator, Brenda Dolphin RSM. As mentioned in earlier communications, the process towards the canonisation of Catherine McAuley is being sponsored by the members of Mercy International Association (MIA), who have appointed Brenda, a member of the Irish Congregation, to this position.
This was a wonderful opportunity to meet personally and to consider strategies for communication and cohesiveness across the Mercy world with regard to this process.
In her preliminary negotiations with Rome, Brenda has been advised that, due to the great number of Sisters of Mercy across the world, she needs to appoint three Vice-Postulators to assist her in this ministry. Consequently, the following three Vice-Postulators have been approved by the Congregation for the Cause of Saints to form a team to carry on this work:
§ Sheila Carney RSM with responsibility for the Americas;
§ Mary Duffy RSM with responsibility for Australia, New Zealand and the Philippines;
§ Anne Hannon RSM with responsibility for Ireland, England and Africa.
Their role will be
§ to ensure that the story and spirituality of Catherine continues to be promoted among sisters and lay partners;
§ to defend the interests of the petitioner, namely, Coirle McCarthy RSM, Congregation Leader of the Irish Sisters of Mercy;
§ to seek the truth in all circumstances;
§ to collaborate with ecclesiastical authorities.
TOGETHER IN MERCY – WORLDWIDE INITIATIVES
Most congregations have now received the printed material that has been prepared by MIA and we are encouraged to disseminate this as widely as possible. In particular, we are encouraged to pray the Prayer for the Beatification of Catherine and to seek her intercession for those who are in need.
To this end, we are asked to join in a Mercy World Day of Prayer on December 12. Sisters and lay partners in each country are asked to set aside some time for this prayer between 12 noon and 2:00 pm on that day. In this way, we will ensure that there is a twenty-four hour "˜prayer clock' sustained around the world to pray for those who have sought Catherine's intercession and to add our own prayers for her beatification. I am sure that sisters throughout Australia will find many creative ways to enable this to happen.
Another worldwide initiative is the request that, wherever possible, each congregation will plan a Mass for our deceased sisters as near as possible to November 11, the date of Catherine's death. Some groups already do this but, for others, it may be too late for 2007 to implement this. However, it is hoped that will become a common feature among Mercies worldwide in the coming years.
The final "˜event' to be recommended worldwide at this meeting, is a Catherine McAuley Lecture or Seminar to be held in 2008. Further information about this will be available later this year.
In the meantime, let us continue to pray earnestly with our Mercy sisters throughout the world that Catherine's witness to the gospel may soon be celebrated by the whole Church.
Please do not hesitate to contact me if you have any queries or suggestions regarding our ongoing participation in this process.
From: Sister Mary Duffy RSM (Melbourne)
Email: mary-duffy@bigpond.com
Editor's note: For more information about Catherine's Canonisation Cause visit Mercy World.