Archived News Item
CATHERINE'S CUPPA
March 9, 2016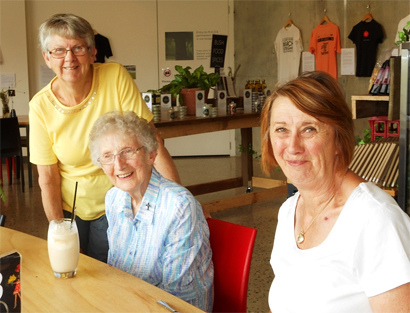 In late 2010, the Mercy Associates in Ballarat decided upon a monthly gathering at a local café to provide an opportunity for Associates to have an informal catch-up if they happened to be free. This 'meeting' time became known as 'Catherine's Cuppa', to link it to Catherine McAuley's instruction, on her death bed, which was for her Sisters to have a 'good cup of tea' together after she had gone.
Since that time from February to December every year at 2:30pm on the third Friday of each month, any Mercy Associates who are free at that time, gather together and thoroughly enjoy the social interaction this provides. We have met at different venues over the time, taking care to ensure there is always ample parking close by. Our new venue for 2016 is the Saltbush Kitchen at M.A.D.E. (Museum of Australian Democracy at Eureka).
The numbers have varied from month to month over the past five years, but it is always an enjoyable occasion no matter how many we are. Sometimes the occasions are used to circulate information relevant to Associates, other times are just a sharing of our news and views and what we have in common.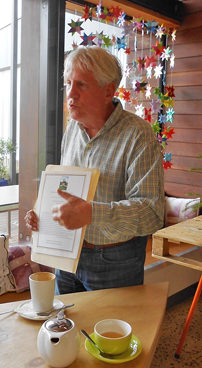 The first 'Catherine's Cuppa' gathering for 2016 in February saw a great turn-up! Associate Les Stewart (at left) took the opportunity to advise that a new initiative for 2016, the Associates' Monthly Prayer List was ready to begin. A list of birth months of Associates was recently collated and now each month the Monthly Prayer List of names is being circulated. Along with the Associates whose birthdays fall in that month, Les is including a passage from scripture and a prayer for the Jubilee Year of Mercy. The Associates are very grateful to Les for designing and implementing this thoughtful program which has us praying for each other throughout the year. As the year proceeds we hope to explore further our Mercy connections and contributions that we can make to the work of the Institute.
Messages to: Carmel Ross