Archived News Item
Catherine's Corner opened at Mercy Centre, Albury
October 6, 2009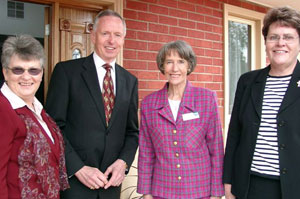 Goulburn Sisters of Mercy celebrated Our Lady of Mercy Day with the opening of Catherine's Corner, a new facility at the Mercy Centre in Albury. "Catherine's Corner can be formally called a day centre of adult learning for people who have a disability," says Shirley Garland RSM. "However, it is much more than this. Everyone who enters can observe and experience the great fun and laughter as clients joyfully participate in the activities offered."
This year on Our Lady of Mercy Day, the Goulburn Congregation celebrated with particular significance as we participated in the opening of new facilities at Catherine's Corner, a venture of Mercy Centre, Lavington. Catherine's Corner is a place which reflects both in name and in purpose, the great call of our foundress, Catherine McAuley.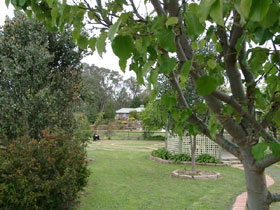 Catherine's Corner can be formally called a day centre of adult learning for people who have a disability. However, it is much more than this. Everyone who enters can observe and experience the great fun and laughter as clients joyfully participate in the activities offered.
These activities can be, for example, in music, art, games and in working with the animals or in the garden. An atmosphere of peace and quiet reflection is centred in the delightful garden which features among other things, a labyrinth, and a quaint little bridge, waterwheel and fountain.
Everyone is welcome to visit and many were present at the opening of the new facilities building erected on the site over recent months. This building has replaced the original facilities building which was a rather old house and had passed beyond its usefulness.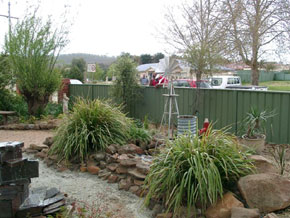 The opening day provided an experience in itself. After those attending were welcomed to country by Mrs Liz Heta, a representative of the local Wiradjuri Aborigines, all enjoyed the entertainment which included Aboriginal dance and didgeridoo, the choir, and stories of the experiences of some of the clients at Mercy Centre.
The new Catherine's Corner building was opened by Sister Marie Duffy, Congregation Leader of the Goulburn Congregation. The then Mayor of Albury, Mrs Patricia Gould, spoke of the great contribution that Mercy Centre, and particularly that of Catherine's Corner, has made in assisting in, and promoting the wellbeing of people with disability in the Albury city and regional areas.
The Chair of the Board of Mercy Centre, Mr Paul Muntz, expressed the Board's immense satisfaction in this development in the life of the Centre, and its intention of keeping on with the work and its expansion into the future.
Congratulations to Mercy Centre's CEO, Sister Patricia Weekes, to the staff, clients, families and friends on this achievement!
From: Shirley Garland RSM (Local Communications Facilitator, Goulburn)
Mercy Centre is sponsored by the Sisters of Mercy, Goulburn Congregation. The organisation provides a range of services to people with disabilities in Albury, Wodonga, Orange, Narrabri and Coffs Harbour areas, as well as in Papua New Guinea. For more information visit www.mercycentre.org.au