Archived News Item
Catherine McAuley Students Deliver Easter Eggs to Mamre House
April 6, 2011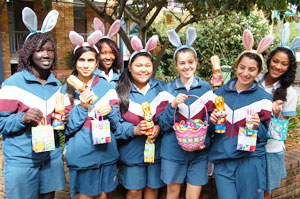 Tuesday, 5 April 2011 – Students from Catherine McAuley Westmead played Easter Bunny this week as they delivered baskets of Easter eggs to the children at Mamre House, St Mary's. Mamre House is a Sisters of Mercy project which offers support for Sudanese families. Children attend the crèche there while their mothers take English lessons.
The entire Year 10 form organised the Easter Egg Drive and collected the eggs before packaging them up into baskets ready to hand out to the children and their mothers. The same students started this initiviative when in Year 7 and haven't missed a year yet. They also make up present hampers at Christmas time.
Year 10 student, Akeer Anyuon, said it was amazing to go to Mamre House and get to know some of the children. "To see the children smile puts a smile on all our faces. We had been collecting the eggs for quite a few weeks and when you see them so excited and giving us big smiles you know it has all been worth it". Another Year 10 student Izabelle Villaflor said that being involved with Mamre House for so many years now has been a very worthwhile experience. "I always like playing with the children", she said.
Catherine McAuley is a Catholic girls' secondary school, located at Westmead, which was founded by the Sisters of Mercy, Parramatta. The school seeks to develop in their students an awareness of those in need and encourages active involvement in social justice initiatives.
For further information please contact:
Jacqui Hamilton
School Development Officer
Catherine McAuley Westmead
Ph: 9849 9129
Mobile: 0405 65 49 70