Archived News Item
Carrying the Baton on Behalf of All Sisters
February 27, 2018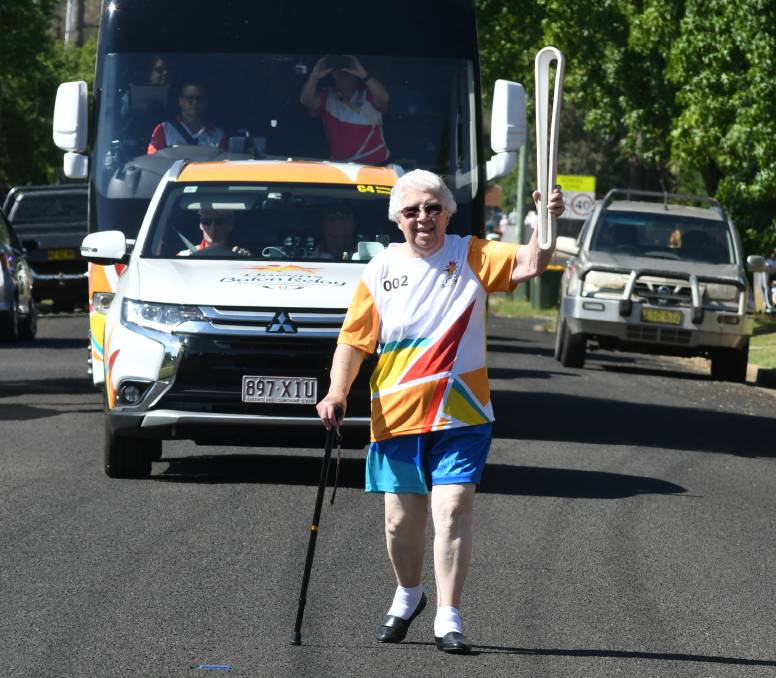 On January 20, Mary Trainor RSM joined 18 baton bearers, nine of them from Orange, to relay through the Orange community the Queen's Baton for the Gold Coast Commonwealth Games.
Sr Mary completed her 200 metre leg of the relay with many of the Parishioners, and some Sisters, turning up to cheer her on.
"On the day of the relay I was the second person to relay the baton and walked about 200 metres, which is about 500 steps for an old lady," said Sr Mary.
The real journey began in September last year, when Sr Mary received a phone call to say she had been nominated to relay the Queen's Baton through Orange.
"I was shocked to have received a phone call from a gentleman from Orange City Council telling me that I had been nominated," said Sr Mary.
"I said to him, 'do you have any idea you are speaking to an elderly lady with a walking stick?'" she continued. "He then persistently replied 'yes I do and if you can't walk it we would be happy to provide you with a wheelchair."
"I had no idea who made the nomination."
For the months following on from this phone call, Sr Mary Trainor was bound to secrecy and six weeks before the event she was given the good news that, out of a large number of nominations, she had been selected to participate in the relay.
Sr Mary has played a significant role in the community of Orange, after a two-year appointment to work as a chaplain at Bloomfield Hospital saw her stay on for 22 years. Needless to say the community remembers her well and displays fond affection when seeing her out and about in the community.
"Every time I go to town, I meet someone who wants to greet me or give a hug or a kiss because they remember me for the work I did within the community in mental health, drugs and alcohol, and intellectual disability," said Sr Mary. "I would never have had the opportunity to undertake these rewarding community services if I had not been a Sister of Mercy."
Sr Mary still to this day has no idea who made her nomination for the Queen's Baton relay but is grateful all the same.
"I feel the baton bearing was an honour not just for me personally, but for all of our Sisters."
During the relay the commentator at one point announced over the PA "Sister Mary you're a star!" and we couldn't agree more!
Messages to: Mary Trainor RSM