Archived News Item
CARING FOR THE CARERS
April 30, 2015
Located eight kilometres north of Perth, St Catherine's House of Hospitality in Tuart Hill W.A. was originally built in 1965 as a Convent of Mercy, a community house for twenty sisters. When the convent was no longer needed for the community, it was opened as a place of hospitality in 1992 and today it is used for individual and group Retreats, Conferences and Meetings. It houses a beautiful Chapel and accommodation facilities.
It is now one of the Mercy works in McAuley Ministries Limited where Mercy Sisters Clare Rafferty and Elizabeth Nicholls welcome a variety of different groups to the House. These groups include self-help groups, retreat groups, people from interstate and country areas needing short term accommodation.
Two groups which come together regularly are the 'Grandparents Rearing Their Grandchildren' and 'Grandcare'. Most recently we hosted a respite weekend for twelve 'grannies' and four support personnel. These grandparents are the primary carers of their grandchildren and they come to St Catherine's for rest, relaxation and some fun!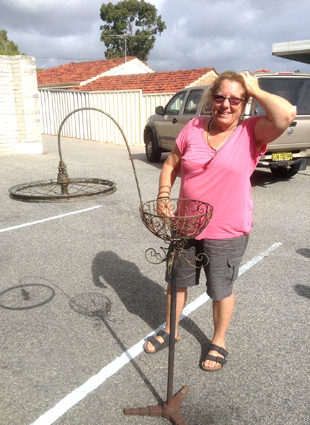 The fun during this weekend included making garden art! Many of the women brought along their own metal items, having given careful consideration to what they wanted to create. With the delivery of the generator and help from the men of the Midland's Men's Shed the creative juices began to flow and the welding began.
One of the volunteers with 'Grandcare' sent us the following response:
'As a grandfather who is connected to Wanslea Family Services Grandcare Program, I would like to say how much the grandparents who are raising their grandchildren appreciate the facilities of St. Catherine's House of Hospitality (Tuart Hill) when we have respite weekends there. Grandparents raising their own grandchildren find themselves under many pressures which they are quite unprepared for at this stage of their lives. To be able to get some respite at St. Catherine's whenever we can is always greatly appreciated. The staff members are most congenial and helpful and the conveniences, bathrooms and bedrooms are always clean and presentable'.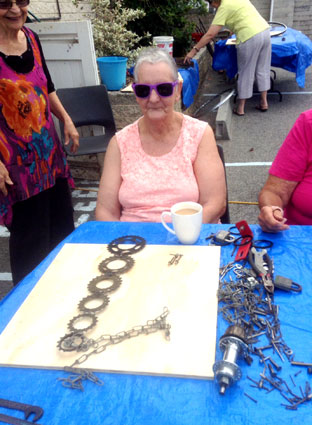 Some other recent comments regarding St. Catherine's made by grandparents are:
– "What a fantastic facility."
– "A lovely place away from home."
– "Very enjoyable – clean and good food."
– "The best."
– "Just great – restful and peaceful."
This is very much in the spirit of Catherine McAuley, seen in the works of Mercy founded by Catherine and encapsulated in the words spoken to one of her sisters as she was dying, "Be sure you have a comfortable cup of tea for them when I am gone."
Messages to: Elizabeth Nicholls rsm