Archived News Item
Cairns sisters set off for PNG
March 19, 2008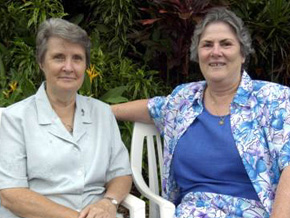 Cairns Sisters of Mercy have had a long association with Papua New Guinea (PNG). While only 32 in number these days, two of their sisters, Anne Moule (pictured left) and Mary Christina Randle (pictured right), last week set off for PNG to work at the Mercy Secondary College at Yarapos, near Wewak. Sister Faye Kelly RSM (Congregation Leader, Cairns) reports.
On Thursday March 13, Sisters Anne Moule and Mary Christina Randle were finally able to make their way from Cairns to Yarapos, near Wewak, where they will work at Mercy Secondary College.
After some delays in having visas processed, the much awaited day arrived. After a hearty send-off by the Herberton community on Wednesday night, and a good-bye cupper at the airport with a dozen supporters, the travellers' dream of getting to PNG was now a reality.
Anne and Christina responded to a need at Mercy Secondary College when they became aware that Sister Agnes Murphy was returning to Australia for 2008. They visited Agnes in October last year and like other Mercies before them, felt that call to be part of Mercy in PNG.
Anne will do a limited amount of teaching and will be Campus Manager while Christina will be the Dining Hall and Kitchen Complex Supervisor. That's what the job descriptions say, but Anne and Christina will no doubt be party to whatever is needed.
Emma and Hilda, two of the newer members in PNG, will be their companions in community and this is another reason that Anne and Christina are looking forward to their time at Yarapos.
While there are only 32 of us in Cairns, we are delighted that Anne and Christina are heading to PNG. It's amazing how much joy and hope it has given us. We have had a long association with PNG. Sisters Mary Gertrude (Elva Russell) and Mary Matthew (Margaret Rush) were in Torembi, and in later years, Sisters Irene Masterson and Pat O'Shea spent many years at Yarapos, Kaindi, and Goroka.
From: Sister Faye Kelly RSM (Congregation Leader, Cairns)
Email: faye.kelly@mercy.org.au