Archived News Item
Cairns sister receives "Docemus Award"
September 13, 2007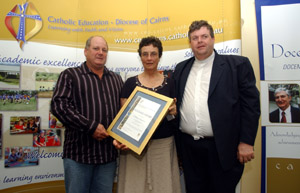 Sister Therese Masterson (Cairns) was recently honoured by the Catholic community of Cairns with a Docemus Award (meaning "to teach") for her outstanding commitment to education.
Held annually since 2002, the awards provide a mechanism to recognise those whose efforts are beyond the already high standards of education and care delivered by those involved in Catholic education. Through such commitment, these people will have made a difference in the lives of students or others with whom they come into contact as they carry out their responsibilities in Catholic education.

The varied roles through which an exceptional contribution within Catholic schools, parishes and any venue in which Catholic education takes place provide the basis for the Docemus Award categories. They are primary teacher, secondary teacher, leadership, school officer and volunteer.
Therese received her award in the leadership category. An outline of why she received the award follows.
Leadership – Position of Added Responsibility Award
Sister Therese Masterson, St Monica's College, Cairns
Sister Therese Masterson retired from the position of Deputy Principal – Pastoral Care at St Monica's College at the end of the 2006 school year. She is currently working part time as Year 9 Co-ordinator and teaching Religious Education. Not many people would see being Year 9 Co-ordinator as a step towards retirement but it is an indication of Therese's generosity as a leader that she is willing to serve wherever needed.
Therese's contribution to St Monica's College and Catholic education has been her life's work. She has been a staff member at St Monica's for 40 years and has made very significant contributions to the leadership of the College over a very long period of time.
Therese has been an inspirational teacher and leader. Past students from each of the five decades of her career in Catholic Education attest to this – and did a special "Sister Therese, this is Your Life" function at St Monica's at the end of 2006.
Therese is first and foremost a woman of faith and mercy. Her down to earth, common sense, but no nonsense, approach has endeared her to generations of St Monica's girls. Although initially taken about by her sometimes gruff manner, it does not take the girls very long to discover her compassion and innate fairness. There are many recent stories told by girls who recognise that Therese has been the factor which has been transforming and redemptive in their lives. She is always willing to see the good in the girls, to give them another chance, but to also offer very practical advice and support at the same time. This is what has made the difference for so many at times in their lives when they have been very vulnerable.
Therese is essentially a Sister of Mercy in all aspects of her leadership role. She has a deep compassion for the poor and a strong sense of the dignity of every human person. Therese is the person who finds the second hand clothes for the girl who cannot afford the uniform, who always knows who needs help and who goes about quietly offering very practical support that no one hears about. She has been of enormous support to the indigenous students at St Monica's who regard her with deep respect and affection.
She is also a great contributor to the community. She has led the P&F who are in awe of stamina and support she has given. She participates fully in camps and retreats, always willing to be involved in all activities, no matter how physically demanding.
Therese's leadership is by example – a lifetime commitment characterised by faith, love, generosity, service and hard work. St Monica's has been greatly blessed to have such leadership as provided by Sister Therese Masterson.
Pictured left to right: Mr Kent Beavon (Chairperson of the Diocesan Federation, who presented Therese with her award), Sister Therese Masterson RSM and Father Neil Muir (Diocesan Vicar for Education).
From: Sister Mary-Ann Lennon RSM (Local Communications Facilitator, Cairns)
Email: mercystratford@bigpond.com