Archived News Item
Cairns Congregation says Farewell to Sr M. Finbarr at 106 years of Age
March 18, 2006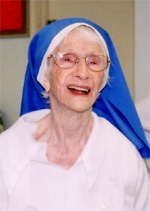 Sr Mary Finbarr was born in Cork, Ireland on 28th October 1899. She, Kathleen O'Connell, was the first born of Andrew and Bridget O'Connell. There were nine children in the O'Connell family: Kathleen, Bridget, George, Mary, Timothy, Susan, Frances, Andrew and Shaun. Sr M. Finbarr often described how they enjoyed all the fun and frivolity of a large family.
Mother M. Evangelist and Mother M, Gertrude, two Sisters of Mercy from the Cooktown Foundation, were in Ireland looking for postulants. It was at this time that they met Kathleen O'Connell and ask her was she interested in going to Australia to be a Sister of Mercy. Kathleen felt that this was her calling, but also realized that it was a hard decision for her family. However, they willingly consented to let young Kathleen respond to her call.
On December 15, 1919, Kathleen and thirteen young ladies left the Mercy Convent Dungarvan for London, together with Mother Evangelist and Mother Gertrude. Here they embarked on the "Beltana" and sailed from the Tilbury Docks. This journey took them via the Cape of Good Hope, to Melbourne and Sydney and continued along the east coast of Australia to Cairns.
Now, according to Sr M. Finbarr and others, the journey was by no means boring for also sailing on the Beltana were three Christian Brothers. Needless-to-say both groups got together for card games and with a little "luck" the girls happened to win most of the games.
The group arrived in Cairns on 5th March 1920. The North Queensland mosquitoes were out in full force to savour them but Sr M Finbarr was quite adamant that they were not going to drain her of her good Cork blood. Bedtime found them giggling as they wrestled with mosquito nets as they sought safety from those awful insects.
Two weeks later these young Irish colleens watched the St Patrick's Day Procession from the verandah of St Monica's Convent. You can guess how nostalgic and tearful this homesick group must have felt. But they had answered a call and deep down in their hearts there was there a sense of having responded to their call to Mission.
In April 1921 the group was transferred to Herberton convent which was still in the process of being built. Sr M. Finbarr had vivid memories of carrying the cooked meals from the old cottage kitchen to the new building dining room. They threaded their way over scaffolding and planks and nearly always arrived with dinner dishes intact. This group worked hard to have the convent and boarding school ship shape for its official opening on 25th September 1921.
The group entered on 9th March 1920, were received as Novices on 30th September 1920 and professed on 12th December 1922. Father Bernard Doyle OSA was the celebrant when they were received as novices. Father is reported to have taken the group "under his wing", going with them for outings and in particular to Wondecla to "play rounders and give them an airing". He occasionally bought lollies for the novices, cautioning the Mistress of Novices that the older Sisters were not to get any!
Sr M Finbarr served in Chillagoe before it closed in 1927 and in all the schools in the Diocese except Thursday Island and Cooktown. Many of her past students, who spanned three generations, have come to visit her, both at the Convents and at Bethlehem Home.
She was a very gentle lady but still had a strong will. Her memory was clear and her tongue had that quick response to any question. Was she faithful? Yes every morning her nurse Anne would give her tablets and Sister would smile and say before taking them that they were her "seven deadly sins" and down the hatch they went. She was loved by all, her family in Ireland, England, Canada and Africa have been very caring of her, to them she was Auntie Kathy.
As Catherine McAuley stated:
God requires that we should be shining lamps giving light to all around us,
and that was the essence of the Life of Sr M Finbarr.
We thank God for her life and her contribution to our mercy life in Far North Queensland.
Messages to Mary-Ann Lennon rsm Local Communications Facilitator