Archived News Item
Buy a bilum and help young PNG women fund their education
July 19, 2007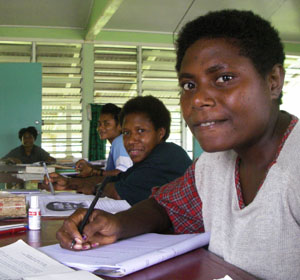 Would you like to help a group of young women from Wewak in Papua New Guinea (PNG) achieve their goal of completing Year 10? If so, read on, as Sister Kaye Bolwell rsm, co-ordinator of the Mercy Education Programme (MEP) in Wewak, outlines an initiative whereby young women in the programme are making and selling bilums to help fund their education.
Pictured right to left are: Euginea Apikely, Norah Selhu, Mary Jane Zawa, Cynthia Kaimbang.
In 2003 in Wewak, PNG, the Sisters of Mercy revived their education program for young women and so MEP is just beginning its fifth year.
The programme was set up to assist young women to complete Year 10 so they can continue on to matriculation and tertiary studies and maybe some will go to the Mercy novitiate.
Each young woman is asked to pay a contribution towards the living and study costs, but for many of them that is quite difficult, and so various ways of helping them to earn some money have been tried.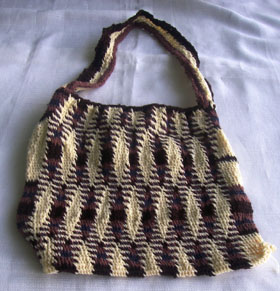 To date, the most successful method of getting financial assistance has been the making of bilums (pictured right). Editor's note: a bilum is a string bag made by hand to carry a wide range of items, from shopping goods, work items to babies.
As we live in the East Sepik Province, most of the patterns will be traditional East Sepik patterns but it is possible to order your own colours and so long as the wools are available here, then they will be done in those colours. Some of the West Australians have had them made in the Eagles and Dockers colours!
The work is labour intensive so delivery of the bilums will take several weeks.

TO FIND OUT MORE INFORMATION, DOWNLOAD AN ORDER FORM HERE.
Bilums cost:
Small – $20 (approx. 25cm square)
Medium – $30 (approx. 30cm square)
Large – $40 (approx. 35cm square)
From: Sister Kaye Bolwell rsm (Mercy Education Programme Co-ordinator, Wewak, PNG)
Email: kbolwell@global.net.pg