Archived News Item
Buy a bilum and help educate young PNG women
September 7, 2010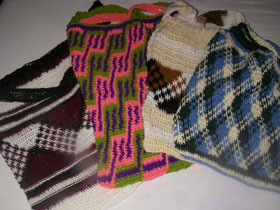 Young women involved in the Mercy Education Programme in Wewak, Papua New Guinea (PNG), are again busily making bilums (hand-woven string bags, pictured right) to sell so they can help fund their education.
The Mercy Education Programme, an initiative of the Sisters of Mercy, PNG, is providing young women who are disadvantaged in some way with opportunities to complete their secondary education.
"These young women are between the ages of 20 and 30 and are trying to achieve Grade 10 so they can go on to matriculation and tertiary studies," explains Kaye Bolwell RSM, who co-ordinates the education programme.
"The money they earn [by making and selling bilums] is used to pay for some part of their education costs and to buy the essentials that we all need to keep clean and healthy."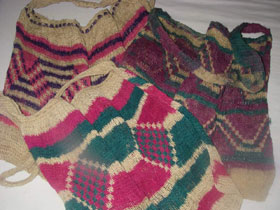 Kaye says the "Bilum Project", now in its fourth year of operation, also allows the young women to do their study with some confidence and dignity because "they are paying their own way".
"Ready cash is not much in evidence here and so paying for education, especially for females, can be a problem. By making bilums and selling them they can earn money to support their dreams."
In PNG, bilums or hand-woven string bags, have been crafted and used by people for hundreds of years to carry a range of items, including food and babies.