Archived News Item
BUILDING FIRM FOUNDATIONS
February 8, 2016
When asked to say a few words to the students of Mercedes College in Perth around the topic 'Building Firm Foundations' the first thing I thought about was the saying of Catherine McAuley 'Hurrah for foundations, makes the old young and the young merry.' (Letter to Cecilia Marmion, January 4 1841).
Of course there have been many, many new foundations in the history of the Sisters of Mercy. The first major one was the foundation of the Sisters of Mercy by Catherine McAuley in Ireland. After that there were many foundations not only in Ireland, but all around the world. The one that is important for us is the foundation of the Sisters of Mercy right here on these grounds in Victoria Square in 1846. So aren't we a privileged few to be educated right here on this spot which is the first Mercy school in Australia! Catherine, Ursula and Sisters of Mercy in general are great at celebrating, whenever possible, everything that happens in the new foundations.
So what happened when Ursula and the first Sisters of Mercy left Ireland for a new foundation in Perth? They left their country, their families and friends to start this new foundation. They came on a very long journey across the oceans to foreign country. Their journey to Perth is a long story which can be told another time. When they arrived in Perth to start the new foundation, they discovered that there was not even a place for them to stay! This was a major obstacle. They were invited by the Bishop to start a new foundation, but the Bishop did not think about providing a place for them to stay! However, they were women of great courage and stamina and they didn't let this little disappointment stop them from starting the new foundation!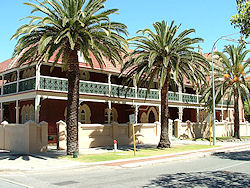 From the first foundation at Victoria Square in 1846, there were many new foundations started from Victoria Square all around Western Australia. Each time it meant that the Sisters had to leave the place they loved and the friends they had lived with for many years and move to a new place to start a new foundation. Some of the places included West Perth, Dardanup, Bunbury, Harvey, Kalgoorlie and Coolgardie (to name just a few).
My first personal experience of a new foundation was the establishment of Liwara Catholic Primary School of which I was a foundation staff member. It was the first Catholic School to be totally funded by the Federal Government. It was also the first Open Catholic school in WA. At the same time, two other Sisters and I moved to live in a house in Greenwood. This was the first time that Sisters had moved from living in a big community to living in a small house. Starting a new Open School meant that we were always on show! It meant that we had lots and lots of visitors coming to check out how well we could run an Open School and how living in a small house was going for us. Also, at the same time we became part of the establishment of a new Parish – the Catholic Parish of Greenwood!
The whole project was exciting and exhilarating for me personally because I was chosen:
-To be part of establishing a new Open School
-To live in a very small community group (4) for the first time in the history of the Sisters of Mercy in Perth
-To be a part of a newly established Parish.
The commitment required for these three areas was very demanding. There were very high expectations from everyone around us. There were families who wondered if they had done the right thing in choosing an open school. The other Sisters in the Congregation wanted to know how we were getting on. And the Parish was delighted to have us and to find out what contribution we could make. And through it all I was thoroughly enjoying myself with all these wonderful challenges! The school grew and developed and has become a wonderful Primary School. I think this happened because we were prepared to not have everything we needed all at once. Also, the Parents and Friends really made a great effort to support the new school. The Sisters enjoyed the challenge of the new living arrangements. The Parish and school supported each other in many ways.
Later in my educational career I had the privilege of getting the job of starting a new foundation school at Ocean Reef. The new school was called St Simon Peter Catholic Primary School. At the beginning when the idea of a school in the Northern Suburbs was explored, the children had to go to Whitford Catholic Primary School for their first year! When we moved over to Ocean Reef we were surrounded by sand, snakes and kangaroos! We had umbrellas in the sand for the children at playtime and lunch time! We were very happy, parents, children and staff. We didn't have everything we needed, but we had each other. We worked hard and we had fun!
Ocean Reef was also a newly established Parish. I was very happy to make a major contribution to the Parish by starting the RCIA process for Adults who wished to become Catholic. We didn't even have a Parish Church to start off with. We had all our liturgies in the classrooms in the school. This meant that the staff had to pack up classrooms every Friday for the weekend liturgies. The staff were happy to do this, for many of them were also committed to the new Parish and this was one way they could make a contribution. We always celebrated any new development that was happening in the school or the Parish. I remember when I had my Silver Jubilee as a Sister of Mercy we had great celebrations in the school and the Parish because most people had never been to a Jubilee celebration for a Sister! Now St Simon Peter Catholic Primary School is one of the biggest Catholic Primary Schools in the Archdiocese. And 20 years later the RCIA is still taking place at St Simon Peter Parish.
The whole project was exhilarating for me because:
-It was the establishment of a new Open School
–I was living with a new Community in Craigie
-It was involvement in a newly established Parish.
The most recent new foundation in my life has been the foundation of the new Institute of the Sisters of Mercy in Australia and Papua New Guinea. This happened in 2011 after six years of preparation. What it meant was that out of eighteen Congregations in Australia and Papua New Guinea, fifteen Congregations elected to join the new foundation of the Sisters of Mercy of Australia and Papua New Guinea. Now this may sound like it would be an easy new foundation! It was probably the most difficult decision that happened for many of our Sisters. There were (are) many challenges for new ways of thinking and ministering, as well as new ways of leadership. Personally, I think it was the best that ever happened, but not everyone has that approach to new ways of thinking and new foundations!
The whole project was and is exhilarating for me because:
-Our Congregation was getting smaller and older.
-Young people appear to not want to be totally committed for life.
–We got to know many more Sisters of Mercy around Australia and Papua New Guinea.
-We could use our resources for Ministry in a much better way.
-It is easier to travel to other Sisters of Mercy around Australia and Papua New Guinea for retreats, meetings and holidays.
–Ministry is central to our way of thinking throughout the whole Institute.
-It's a much bigger group to be able to speak out on special issues e.g. Asylum Seekers and how they are treated (to mention a few) etc.
But what are foundations really about?
They are about:
-People making sacrifices so that new ideas and things can emerge
-Being prepared to change your ideas and work with new ones
-They are exciting and exhilarating
-Building new communities whether it is a new country, a new state or a new school, a new Parish, a new Institute or a new House
-Building relationships through give and take and using the gifts you have to share and supporting one another in the new project whatever it may be
-Giving new life to each other in a new project
-Commitment to making sure that the new project is successful – whether it's a new school, a new Congregation, a new Parish, a new House, a new Institute or a new country. This means ongoing commitment – not just a day or a week!
-Encouraging one another when times get tough or there's not enough – not finance for the project or it seems too hard to keep going
-Being strong for one another when outside forces try to discredit your new project
-Celebrating each step in the ongoing development of the new foundation
–Treat obstacles as challenges which can be overcome is some way. This can be done through talking, listening, suggesting other ways and supporting each other in trying out the new challenges.
Messages to: Breda O'Reilly rsm