Archived News Item
Building bridges between the 'haves' and 'have-nots'
November 18, 2009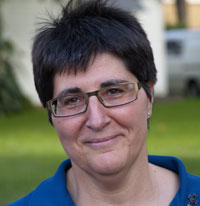 Melbourne-based Sister of Mercy, Cathy Solano (pictured right) is an ideal candidate for the newly created position of Community Education Officer at Mercy Works Inc.
She has a background in teaching and nearly ten years' experience working as an educator in Sudan, Uganda and Pakistan. Last year she participated in a ten-week internship at the United Nations in New York with Mercy Global Concern.
But perhaps most importantly, Cathy has an infectious passion for the rights of all people to live in dignity free from poverty and injustice.
Through her new role, Cathy wants "to educate those who have no idea of the terrible conditions in which so many people in our world are forced to live". But she believes most people are already concerned about the plight of others.
"My work is to keep this awareness [of others] at the forefront of peoples' minds and hearts because it is so easy for all of us to forget what is happening for the 2.3 billion people suffering the scourge of poverty," she explains.
"When faced with the real life stories and terrible conditions that people endure, people are genuinely moved with compassion."
Cathy hopes to "tap into the generosity and goodness that is in people already" and to connect them with the activities of Mercy Works Inc. so the agency can continue to alleviate the suffering of communities in Papua New Guinea, Timor Leste, Pakistan, and in Australia.
She describes it as "building bridges between the 'haves' and the 'have-nots'".
"We have a great opportunity to make a huge difference," she says.
Since beginning in the role earlier this year, Cathy has visited a number of primary and secondary schools and parishes throughout Victoria, Tasmania and Western Australia. She has also travelled to Timor Leste and Papua New Guinea to witness first-hand the projects that Mercy Works Inc. supports.
If you would like Cathy to visit your school, parish or community group, she would love to hear from you. She is able to present to small or large groups about Mercy Works Inc. and the projects it supports. Cathy can also facilitate education workshops and reflection sessions about global issues of poverty, development, justice and peace.
Contact Cathy on Ph: +61 (0) 3 9499 1577 or Email: CSolano@melbmercy.org.au