Archived News Item
Brisbane sisters receive doctoral awards
April 23, 2009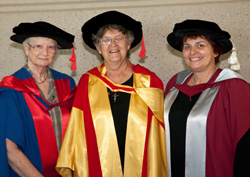 Congratulations to two Brisbane Sisters of Mercy who recently received doctoral awards from the Australian Catholic University. Sister Margaret Quane RSM was awarded a Doctor of Philosophy, while Sister Denise Coghlan RSM received an honorary doctorate for her contribution to social justice issues.
Margaret received the award Doctor of Philosophy (Ph.D) for her studies in spirituality. Her thesis is entitled The Life and Writings of St Therese of Lisieux: Contributions to Contemporary Understandings of the Relationship between Faith and Sin.
Denise was recognised with an Honorary Doctorate for her contributions to social justice, through the promotion of reconciliation in Cambodia and her tireless efforts in the banning of landmines in that country. The citation, read by Vice-Chancellor, Professor Gregory Craven on the occasion of the conferring by the Chancellor, Brother Julian McDonald CFC, of the degree of Doctor of the University (honoris causa) can be downloaded here.
Messages to Margaret Quane RSM, Email: mquane@bigpond.com
Messages to Denise Coghlan RSM, Email: jrscam@forum.org.kh