Archived News Item
Brisbane sisters hold Chapter of Elections
October 15, 2008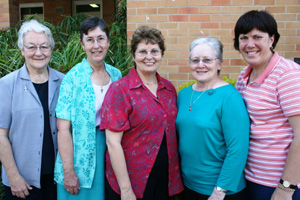 Brisbane Sisters of Mercy held their Chapter of Elections from September 26-29 during which Sister Sandra Lupi was re-elected as Congregation Leader. Sister Elizabeth O'Keefe (Local Communications Facilitator, Brisbane) reports.
We, the Brisbane Sisters of Mercy, held our Chapter of Elections from Friday, September 26 until Monday, September 29, during which Sister Sandra Lupi was re-elected as Congregation Leader.
Sisters Margaret King, Jean Gormley, Catherine Reuter, and Mary Lawson were elected to the Congregation Leadership Team. We warmly congratulate these sisters who will take up their leadership roles on 12 December, 2008 for the next five years.
Our Chapter of Elections followed on from our Chapter of Affairs which we had held in July when the following statement of direction was approved:
We are women Religious who experience the loving mercy of God.
As followers of Jesus, we acknowledge our frailty and giftedness in participating in God's mission of mercy, particularly among those who suffer injustice, pain and oppression within a culture of violence.
Our calling as Sisters of Mercy compels us to discern authentic ways of entering into the mystery of God's love by:
(a) engaging creatively in searching out "the meaning of God's choice of the poor" (National Constitutions 1.05 p 10); and
(b) developing collaborative relationships and processes to continue Catherine McAuley's tradition of service in sustainable ways.
Aware of the spiritual hunger and desire for peace within ourselves and others, we commit to non-violence for the healing and liberation of our world.
From: Sister Elizabeth O'Keefe RSM (Local Communications Facilitator, Brisbane)