Archived News Item
Brisbane sister celebrates 100 years
December 18, 2007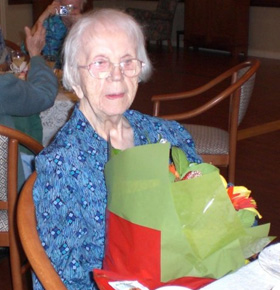 On Monday December 17, 2007 the Brisbane Congregation celebrated Sister Anne Corcoran's 100th birthday at Emmaus Nursing home with Mass followed by morning tea. Joining her and the Sisters of Mercy and Staff of Emmaus for the celebrations were past pupils and also relatives who had travelled from Canberra and Melbourne to be with her.
Sister Anne (pictured right) was one of 36 Irish women who came to Australia in 1930 to join the Brisbane Congregation. Only five of these sisters are still alive: Sister Mary Redempta Carroll, Sister Flora Heaney, Sister Ellen Power, and Sister Mary Maddelena Lyne, all of whom live with Anne at Emmaus.
When Anne arrived in Brisbane she was met by her older sister, Ellie, Sister M Cornelius, who had entered in 1924. Ellie died quite suddenly in 1958.
Anne was a trained nurse when she entered and her first placement was at the Mater Hospital. However, her nursing career was to be short lived. In 1933, when a commercial teacher was needed in Beaudesert and because Anne had completed a commercial course she was asked to fill in. This request was to change Anne's course in life. Commercial teaching became her forte. From Beaudesert, Anne went to Toowoomba in 1938 to teach and then in 1950 to the staff of All Hallows School where she remained until her retirement from teaching at the end of 1973.
For the next ten years Anne looked after the accounts at All Hallows Convent. Finally, in 1983, Anne took up residence at Emmaus Nursing Home.
Sister Anne has always been a lady and her loving nature has endeared her to all around her. She is always interested in what past pupils, friends and family are doing.
From: Sister Elizabeth O'Keefe RSM
Email: EOkeeffe@sombris.org.au