Archived News Item
Brisbane celebrates Mercy Day with final profession
October 11, 2007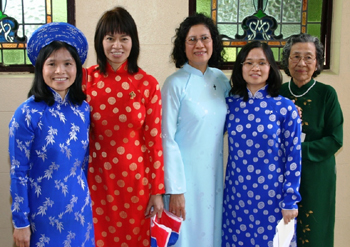 Brisbane Sisters of Mercy celebrated Mercy Day 2007 by joining with the family and friends of Sister Doan Thi Diem Huyen (Gwen) for her perpetual profession in All Hallows' Chapel. The ceremony, held on Sunday September 23, commenced with Eucharist concelebrated by Archbishop John Bathersby, Fathers David Wilson and Peter Mai Dao Tien, and was followed by a light lunch in Loretto Hall.
Sister Gwen (pictured right) and her sister came to Australia from Vietnam as refugees during the 1980s after the fall of Saigon. The remainder of her family followed soon after. Gwen joined the Sisters of Mercy in 1998, and since her first profession, has been working in the pastoral care department of the Mater Hospital in the area of communion ministry.
On the weekend following Gwen's final profession, the community of St Luke's Parish Revesby in NSW – where Gwen's vocation had been nurtured – held a thanksgiving Eucharist.
Sisters of Mercy attending included Sisters Mary White, Helen Stannard and Judy McLeod of Parramatta, and Sister Karon Donnellon, representing the Institute Leadership Team.
Mary White reflects:
"I entered St Luke's Church at Revesby to the rhythmical sound of members of the congregation saying the Rosary in Vietnamese. The church was filled with a sense of great reverence and an expectancy of what was about to be celebrated.
"The Vietnamese congregation had gathered to continue to celebrate with Sister Gwen Doan, of the Brisbane Congregation of the Sisters of Mercy, the taking of her perpetual vows on September 23. They had come to give thanks and witness to their deep faith in giving thanks to God in Mercy for Gwen's calling which had been nurtured by them in her earlier years as a member of the parish community.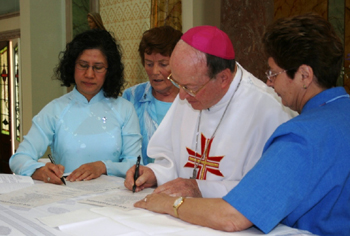 "For the first time, I was being immersed into a Eucharistic celebration which was in its entirety in another dialect. This required reliance on other sensors to capture deeply what was being expressed by the celebrants and the community. The joy was evident along with their continual praise to God.
"I walked away from the wonderful celebration very conscious that my moment of immersion was temporary. However, my admiration for Gwen's journey now more fully realised. Gwen has endured God's Mercy embracing cultural, language and institutional change. We are truly blessed by Gwen's vocation.
"I thank Gwen for allowing me to be part of this great day. I thank her family and community for the wonderful gift of hospitality which they gave to all guests."
From: Sister Elizabeth O'Keeffe rsm (Local Communications Facilitator, Brisbane) and Sister Mary White (Parramatta).