Archived News Item
Book Launch: The Correspondence of Mother Vincent Whitty
October 4, 2011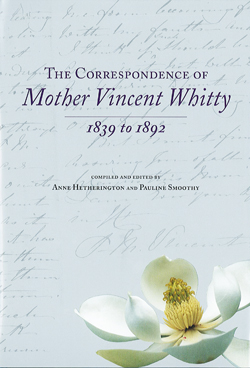 On the first afternoon of the Living Mercy Conference held recently in Brisbane, the long-awaited Correspondence of Mother Vincent Whitty was launched by Sr Sandra Lupi RSM, leader of the Brisbane Congregation.
A large crowd of Sisters of Mercy from around Australia and their partners in ministry assembled for the launch in Claver Theatre at All Hallows' School. The hard cover, attractively produced book, edited by Brisbane Sisters Anne Hetherington and Pauline Smoothy, contains over 340 letters written to, by or about Mother Vincent (Ellen) Whitty. They cover a period of fifty-two years, from her entry into the Congregation in Dublin in 1839 to her death in Brisbane in 1892. They are an important resource, not only for the Brisbane Congregation, but for the whole Mercy world, as many of the letters pertain to Mother Vincent's time as Rev Mother in Baggot Street (1849-1855). Of particular significance is the exchange of letters between the young Sr M Vincent and M M Cecilia Marmion during the final days of Catherine McAuley's life, and M Vincent's correspondence relating to the sending of Sisters to the Crimean War.
Sisters of Mercy, and historians, both religious and secular, will find in these pages much to ponder.
For further information, or to order a copy of the book click here.