Archived News Item
Blessing and opening of Sister Isobell Clinic in PNG
September 14, 2009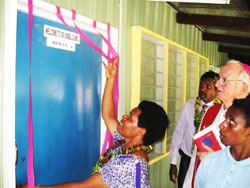 It seemed that the whole population of Wosera in the East Sepik Province, Papua New Guinea was present on September 7, when the "Sister Isobel Clinic" was blessed by Bishop Tony Burgess and opened by Theresia Tina RSM (Leader, Sisters of Mercy, PNG). Joan MacGinley RSM reports.
The Clinic was dedicated to the pioneer Sisters of Mercy, but especially to Sister Isobel Condon who was the first nurse in Kunjingini.
Representatives from Government and Church Health Departments were present. In their speeches and songs, gratitude was expressed by the community for what the Mercy Sisters in the past had done, and what they were doing now.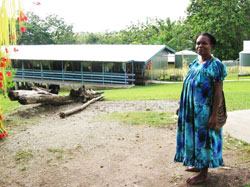 There was a special "Thank You" to the Sisters of Mercy for their financial contribution towards the cost of the Sister Isobel Clinic. To show their appreciation, the local community presented a huge pig to the sisters in the name of the pioneers.
Sister Celine, Rosary Sister, the Catholic Health Secretary for the Wewak Diocese, was the driving force in the erection of the new building.
What began in 1957 when the Mercies went to Kunjingini continues to provide health services to the Wosera district. Of course education featured then and still does.
From: Joan MacGinley RSM