Archived News Item
Bilum project in PNG continues
May 1, 2008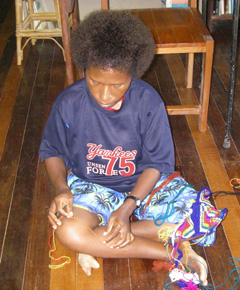 Would you like to help a group of young women from Wewak in Papua New Guinea achieve their goal of completing Year 10 so they can continue on to matriculation and tertiary studies? Sister Kaye Bolwell, Co-ordinator of the Mercy Education Programme in Wewak, outlines an initiative whereby young women are making and selling bilums to help fund their education.
Last year the Bilum Project was inaugurated. I would like to thank all those sisters and friends who supported the project by buying bilums. Just to recap…
During 2003, the Sisters of Mercy revived their education programme for young women in Wewak. Now into its sixth year, the Mercy Education Programme was set up to assist young women to complete Year 10 so they can continue on to matriculation and then tertiary studies.
To date, three have begun matriculation and another three have begun their journey as Sisters of Mercy.
Each student is asked to pay a contribution towards the living costs, but for many of them that is quite difficult… and so the Bilum Project was born.
As we live in the East Sepik Province most of the bilum patterns will be traditional patterns of this region but it is possible to order your own colours and so long as the wool is available here, then they will be done in those colours or as close to as possible.
We've had requests for women's colours, football team colours, bright and subdued colours. Feedback has been very heartening. Thanks especially to those who contacted the young women who worked their bilums.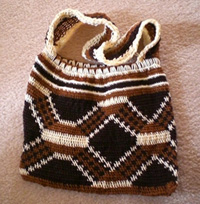 We are now getting requests for bilums in natural fibres. The young women in the programme can also make these and will do so if they are ordered. A small difficulty is that the materials are not readily available here in town, and then when the natural fibre is found, it has to be taken from the trees, washed, dried, dyed, twisted and then worked into a bag. All this can be done but it will take a bit longer to fill the order.
The approximate sizes and costs will be the same as last year.
TO FIND OUT MORE INFORMATION DOWNLOAD AN ORDER FORM HERE.

From: Sister Kaye Bolwell RSM (Mercy Education Programme Co-ordinator, Wewak, PNG)

Email: kbolwell@global.net.pg