Archived News Item
Bilum Back Page: No-one votes for violence
June 22, 2012
Nobody votes for violence
Democracy is one of the hallmarks of a well-functioning society but in countries with few resources, elections can be a time of low Government activity and decision making, heightened tension and increased violence.
Both Timor-Leste and PNG are going through elections this year – a potentially challenging time for our Sisters there and the communities they work with.
In 2006 the elections in Timor-Leste virtually erupted into civil war. In PNG, ongoing tensions continue to threaten violence. The elections have been postponed for a few weeks, extending the uncertainty and potential for violence.
In Timor-Leste, presidential elections took place in March and April and parliamentary elections in July. Sr Helen Nolen reported from Maliana in April that there hadn't seemed to have been much violence.
'Local police are monitoring the situation very closely because there was a lot of violence in the 2006 elections. This time there have been many appeals for calm and to follow the democratic process. The Church in Dili has organised 111 days of prayer leading up to the June elections. At this stage the biggest impact has been that the government hasn't been making decisions. While some things, like emergency road repairs in Dili are rushed through, many things have been put on hold until after the elections. We'll have to wait until the second half of the year for some decisions to be made in relation to education, health and infrastructure.'

Despite the violence of the 2006 elections in Timor-Leste, people are still keen to express their democratic right. All people 17 years and over who carry an electoral card can vote.

In PNG, Parliamentary elections were scheduled for June but a three week postponement was announced in April. Apart from politically motivated violence that can take place in the main centres such as Port Moresby, Lae, Goroka, Wewak and Mt Hagen, elections have further negative impacts across the country.
Sr Maureen Sexton reported from the Western Province that they have to exercise prudent caution and minimise schedule patrols and visits to remote areas in the build up to elections. This naturally interrupts projects in villages. She said,
'the resources boom in the province has meant a large influx of migrants from other provinces and from overseas. These people are not always homogenous. The election is certainly a time of heightened activity – visits of high profile MPs and large gatherings. Money and goods will be "given out" and parties held. Plenty of alcohol and drugs will flow. Most violence emanates from these excesses.'

In Mt Hagen the sisters have specifically issued an election guide to advise people on the best way to look after themselves during these challenging times. Elections in both these countries serve as a sharp reminder for those of us in Australia, bored with elections and 'politics as usual' that 'boring' elections are something that our near neighbours can only dream of.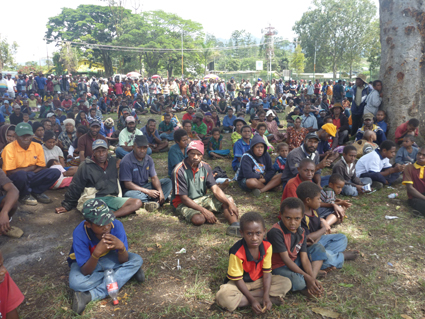 A crowd attending a Human Rights International Awareness Day event in Mt Hagen, PNG