Archived News Item
Big Hearts in Cootamundra
June 22, 2012
The new Executive Director of Mercy Works, Ailsa Mackinnon made her first school visit recently when she travelled to Sacred Heart Central School in Cootamundra to speak to students about Mercy Works activities.
The school can date its history back to 1882 when Sisters of Mercy arrived in Cootamundra and established a small school with 75 students. Despite still being a small school of under 400 students, they raised a remarkable $1,000 for Mercy Works programs.
We'd like thank everyone at the school for hosting Ailsa and for being so generous.
If you would like a speaker from Mercy Works to come to your school or organisation please call 02 9564 1911 or email mwdo@mercyworks.org.au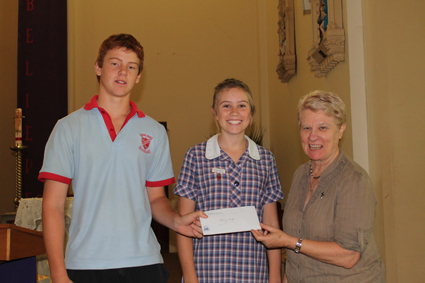 Ailsa Mackinnon with Mitchell Trinder and Suzie Alderman, school captains at Sacred Heart Central.