Archived News Item
Bethlehem Home for the Aged honours Cairns sister
August 2, 2007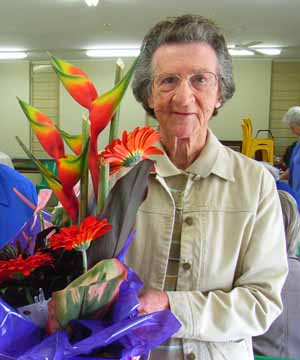 Sister Ines Demartini (Cairns) was honoured recently by the staff and residents of Bethlehem Home for the Aged in Cairns for her twenty-year service as matron and manager of the Home. Sister Mary-Ann Lennon (Local Communications Facilitator, Cairns) reports on the celebration.
On the chilly morning of July 2, some of the Cairns Mercies gathered at Bethlehem Home for the Aged to celebrate with one of our sisters, Ines Demartini. The management of the Home, now owned by the Holy Spirit Care Services, had decided to dedicate the wing for the high care nursing section to our own Ines who had spent twenty years as matron and manager of the Home.
We gathered at the entrance to the wing where the ceremony took place. Those of the residents who were able joined us, gracing the moment with their presence and watching as the plaque was unveiled. A short speech was delivered by the General Manager, Pam Fielding.
Also present was Sister Noela Williamson of the Holy Spirit Congregation, now resident in Cairns. We then proceeded to the Recreation Hall for a beautifully prepared morning tea during which Ines was presented with a floral arrangement and a cake bearing her name. She promptly shared this with the residents whom she fondly remembered. Her speech was listened to attentively as she recalled her days at Bethlehem Home and thanked the present day owners for their generosity in the honour given her.
She was amused at the fact her name now joins those of several bishops and noted people already decorating the walls of the building. However, Pam Fielding noted that in recognising Ines in this way, they are also acknowledging the wonderful contribution that nursing staff have made to aged care.
From: Sister Mary-Ann Lennon (Local Communications Facilitator, Cairns)
Find out more about Bethlehem Home for Aged.