Archived News Item
Being Visible and Available
October 28, 2013
Regardless of how busy or idle we become; regardless of age, background and ability, health, friends or family, nationality or belief, each of us at one time or another, knows loneliness. We experience the need to talk to someone and to have them listen and, strange to say, not necessarily to talk to the ones we love or see most often. I have heard people say they have felt so lonely, they have boarded a bus and travelled around, just to be able to talk to people. Such is a person's need to make contact with another.

Sixteen years ago, Monsignor Allan Hart had a new vision of being pastoral in the Parish of Hamilton, part of the Diocese of Maitland-Newcastle. Monsignor approached the Sisters of Mercy to develop this new approach which was to be an outreach to all people (not only Catholics) in the entire region of his Parish. This was to be accomplished by simply walking in the residential streets and casually meeting the people in their gardens or along the street. Sister Patricia Whitten rsm was appointed coordinator to gather a small group of Sisters for this ministry and so began the WALKING PASTORAL TEAM.
This ministry is inspired by the Mercy tradition of Catherine McAuley, the original 'Walking Nun' from Dublin. Catherine McAuley walked the streets attending to the needs of the poor. Her saying 'The poor need help today not next week!' is a favourite of the group.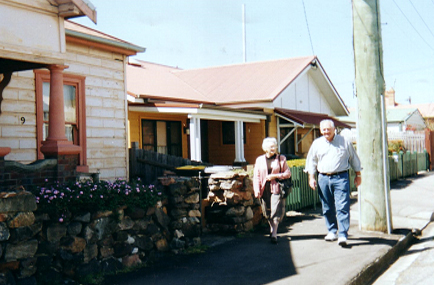 The Walking Team, led by Sr Patricia, is a ministry of the Sacred Heart Cathedral Mercy Pastoral Team. The Team's approach could not be simpler: invitations to morning tea are issued to people team members meet while walking local streets. Why? "To build up the community spirit and in so doing, extend the Kingdom of God," says Sr Patricia.
The walkers form teams of two and for sixteen years they have been walking the same streets of Wickham, Islington, Mayfield, Tighes Hill and Hamilton on the same day and at the same time, visiting and listening to people of all denominations and backgrounds, many isolated by nationality, age and gender.
Sr Patricia Whitten said there are many Italians, Poles and Croatians who emigrated to Australia in the 1950s. Because of their inability to communicate easily, they retreated into mixing with their own. Women were particularly prone to this isolation.
How do Walking Team members meet these people? Sr Patricia says they just walk down the street and engage people whom they may see in the garden, at the letter box, at bus stops or just strolling along.
So many people have been befriended in this manner. She has found that many people just don't know how to reach out and so "we just offer them that hand of friendship by listening to their many stories. People look forward to seeing us and we never run short of invitations".
It may be surprising to learn that some residents are not aware of services that are available to them in the community or some may know of the services but are not aware that they can access them. And in the midst of this, loneliness is found to be the greatest pain of all.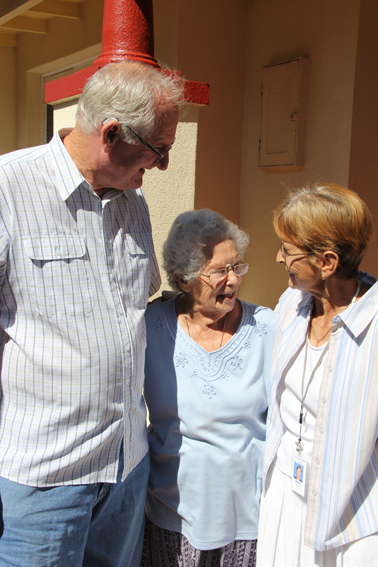 Because of what is happening on the streets at night and in some areas during the day, elderly people lock themselves in for safety. Many have not spoken to their neighbours but since the 'Morning Teas' for residents have been occurring regularly four times a year, the level of fear in the neighborhoods has lessened, families have met each other and some residents have asked to join the team. The Morning Teas are held in the Anglican Hall in Islington, the facilities of which were freely offered by the Anglican Church.
Why, with so many community services available today, is this service so relevant? The answer is that many services provide just that – a particular service – and the providers don't have time to stop and talk and listen. The Walking Team addresses that gap. They bring human voices showing care and concern. The Team has heard many interesting and sometimes horrific stories about people's experiences of the war in Europe and the happier stories of family reunions. Sr Patricia said her team members never have a dull moment on their walks and they feel energised through their contact with different groups of God's people. They don't talk evangelisation, "We just show by our interest in people that we care about them. Their faith or religion doesn't matter. We see everyone, but if they express some interest in returning to their faith, we help them find their way," says Sr Patricia.
Content and photos courtesy of Sr Patricia Whitten with Tracey Edstein and Shirley McHugh – 'Aurora' Diocese of Maitland-Newcastle.
Messages to Sr Patricia Whitten rsm
Links: www.mn.catholic.org.au/aurora
www.newcastlecatholic.org.au/page6759/Care-Groups.aspx