Archived News Item
BE AWARE: child labour and people trafficking
November 13, 2008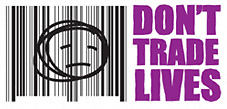 The October 30 edition of Mercy M@tters reported on the work of ACRATH (Australian Catholic Religious Against Trafficking in Humans) and their determination to make it clear "People are NOT for Sale". Readers are encouraged to support current projects from World Vision Australia in addressing child labour in the cocoa production industry, and from the Australian Institute of Criminology (AIC) in investigating community understanding of 'people trafficking'.
People Trafficking – Online Survey
The Australian Institute of Criminology (AIC) is conducting an online survey which seeks to investigate what members of the community understand and think about people trafficking. The survey is completely anonymous, is quite easy to complete and will obviously be an important research tool for the future. They are looking for a broad representation of views not specifically people who have expertise.
Sign the Just Say 'Yes!' petition to the chocolate industry
Your favourite chocolate bar might not taste so sweet when you consider that with each bite you are supporting an industry where children may be forced to work long hours in dangerous conditions instead of going to school.
Criminal networks have been caught moving children across regions and international borders to work on cocoa farms. Learn more at World Vision Australia. Send a message to the Australian chocolate industry that you want them to make a genuine attempt to tackle the root causes of child labour in cocoa production. Sign the World Vision Australia Petition HERE!
Buy Fair Trade
The Good Shepherd Trading Circle is a non-profit company established by the Good Shepherd Sisters in Australia in 1995 to support women in micro-enterprises initiated by the sisters internationally. In addition to an extensive range of goods, Fair Trade chocolate, tea and coffee are available at the Trading Circle:
Melbourne
261 Victoria Street Abbotsford Ph: (03) 9421 6874
Sydney
27 Lackey Street Summer Hill Ph: (02) 9798 0373
Brisbane
100 Latrobe Terrace Paddington Ph: (07) 3217 5302
Auckland, New Zealand
125 Kitchener Road Milford Ph: (09) 486 2518
Contact: Carmel Heagerty RSM, Institute Justice Co-ordinator
Email: Institute.Justice@mercy.org.au