Archived News Item
Ballarat sisters celebrate jubilees
March 19, 2008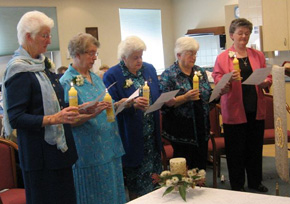 Ballarat East Sisters of Mercy came together on February 24 to honour the lives of five of their sisters who celebrated golden (50 years), diamond (60 years) and platinum (70 years) jubilees of religious profession. Sister Marie Davey RSM (Local Communications Facilitator, Ballarat East) reports.
The five sisters (pictured above), Sisters Rita Hayes (60), Anne Gargan (70), Monica Butler (60), Maureen Healy (50) and Tricia Vagg (50), have lived and worked in schools, parishes and in social work in the Ballarat Diocese and beyond for a total of 290 years.
In that time they have touched the lives of thousands of people from all walks of life.
We congratulate them and thank them for the contribution that they have made in the places they have been.
From: Sister Marie Davey RSM
Email: rsmdavey@netconnect.com.au