Archived News Item
Ballarat sister's work in Timor Leste honoured
December 1, 2008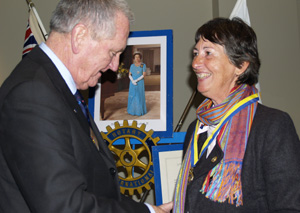 Ballarat Sister of Mercy, Helen Nolen was honoured recently by Rotary Mosman (NSW) with the prestigious Paul Harris Fellowship Award for her outstanding contribution to the community, particularly to the people of Fohorem in Timor Leste.
Since 2005, Helen has been working as a teacher-trainer in Fohorem, a mountainous area in the country's south-west, near the West Timor border. She is also involved in a number of community development initiatives, including the installation of a major water system and the establishment of Feto Fitun Fohorem, a group which focuses on developing skills and work opportunities for young women.
Helen was presented with the award in July at a luncheon hosted by Rotary Mosman. Named after Rotary's founder, the award is one of the highest honours Rotary can bestow upon a person. Recipients are recognised for their outstanding contributions, exemplifying the highest ideal in Rotary in placing "service above self".
The luncheon was also an opportunity to hear about a major water project that Rotary Mosman, in partnership with Mercy Works, Rotary Dili and the Fohorem Water Commission is undertaking for the people of Fohorem and surrounding communities.
Helen said she was honoured and humbled to receive the award. "I am honoured because Rotary have supported the water project in Fohorem and have enabled people to receive clean water – something we in Australia take as our right. This honour is not just mine; it's also for all who worked so hard on this project.
"I am humbled because I have had little formal association with Rotary, though I have long admired the group for the enormous good it does in the local community, and internationally, through its various exchange and goodwill projects.
"I take this opportunity to thank the many members of Rotary, particularly those of the Mosman and Crows Nest Clubs who have worked alongside me in the Fohorem project.
"I also thank the Sisters of Mercy and all connected with Mercy Works Inc."