Archived News Item
BAGGOT STREET BECKONED
May 1, 2015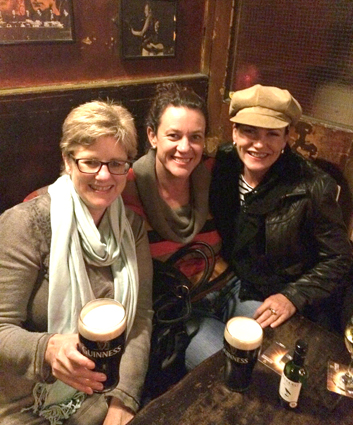 As I departed Newcastle I knew I was about to embark on a wonderful journey. As with those peers and sisters who have undertaken the program in years before, I knew it would touch and have a profound impact on me personally and professionally. What I didn't understand yet was how.
Ireland is certainly "on the other side of the world". And after planes, trains and automobiles, not to mention over 30 hours of travelling, I arrived safely. The day I landed in Dublin, Ireland had just won the rugby six nations. So a celebration was in order. But I get the feeling there would be some type of celebratory event regardless of the reason.
I was one of 36 participants lucky enough to be invited to partake in the Mercy Leadership Program and Dublin Pilgrimage run by the Mercy Ethos Team. Walking into Mercy International Centre on Baggot Street, or Catherine's House as it is more lovingly referred, there was a sense of peace, calmness and serenity. In Mary Reynolds rsm introduction, she welcomed us "home". And as pilgrims, this was certainly our 'home' for the week. It is also the home of the Mercy family across the world. The display of hospitality and sense of welcome we received in Catherine's House was truly wonderful.
The program provided a perfect balance of formation in the founding story of Mercy, inspiration for leadership in Mercy mission today and personal reflection time. We were provided with insights into the history of Mercy through the story of Catherine's life, the early women of Mercy and Catherine's approach to leadership in her time. We had time to 'just be' in Catherine's House. To sit, look, absorb, explore. We visited Coolock House, numerous sites on the streets of Dublin including St Teresa's Carmelite Church and the Presentation Convent at George's Hill. We had the honour of witnessing the sisters on the pilgrimage renew their vows in the Convent where Catherine completed her novitiate and was first professed. We had a day at Glendalough, a monastic site and 'thin' place, allowing time to explore the spirit and absorb the richness of our journey. We were invited to look at the challenges and opportunities for living Mercy today, being a Mercy leader in our own ministries and broadening our exposure of Mercy in Action on a global setting. All of this in less than a week. No wonder I left enlightened but exhausted!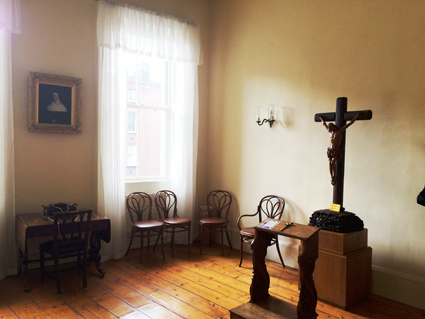 The story of Catherine McAuley and the Sisters of Mercy is remarkable. She was an extraordinary woman. Catherine was a visionary yet she was practical. She was astute and committed. Whilst today we are left with a wonderful legacy, in achieving this she encountered so many obstacles. Through it all she remained focused to her ministry and her values. From early beginnings to establishing new foundations Catherine had a wonderful way with people displayed through her care for the sick and uneducated to mentoring her younger peers in leadership. She connected the rich to the poor, evident in the position of Baggot Street in Dublin. She had a passion for God and a genuine love for the poor.
As I took time to reflect during the week I began to wonder why, in all the rich history and heritage we have on Catherine, we do not have a picture of her. Maybe there is no picture of Catherine because it would make us focus on the person and not the ministry? Maybe allowing us to shape our own picture of Catherine lets us explore what it is in her that's important to us, in our time, in our ministry?
So what does it mean to be a mercy leader? To me it means providing encouragement and being supportive. It means being forward thinking. Remaining focused on your goals. It means allowing others to flourish, empowering others and placing trust in your team. It requires communication to be paramount. It requires you to work with diversity, to be relational, consultative and to work through decisions together. It is a participatory leadership style.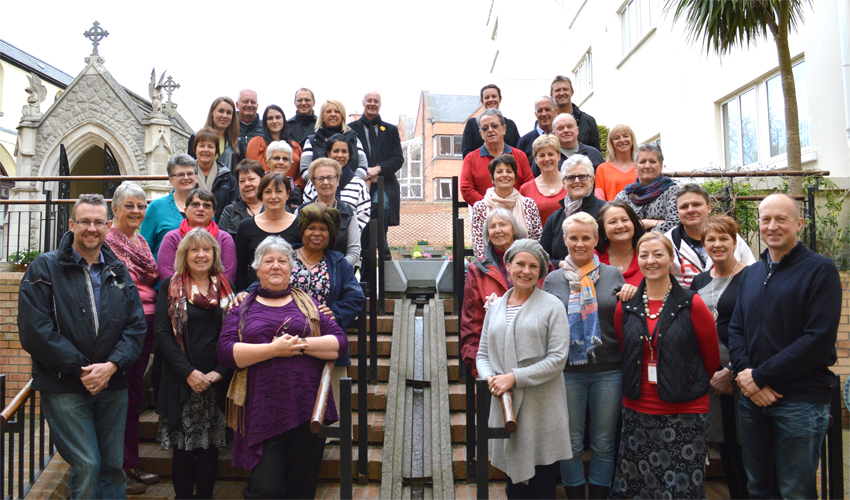 To feel blessed and privileged to have been given the opportunity to undertake the Dublin pilgrimage is an understatement. Marina Wiederkehr writes, 'A pilgrimage in not a vacation; it is a transformational journey during which significant changes take place……Every step along the way has meaning….On return from the pilgrimage, life is seen with different eyes. Nothing will ever be quite the same again'. It's evoked in me a sense of purpose. My journey is not yet finished. As with the Mercy story, there are many chapters still unfolding. I'm just pleased to be part of it. And I will never again underestimate the power of just one person. We are now dream shapers.
'Catherine McAuley had a dream
We have the privilege of knowing it
We have the responsibility to understand it
We have the duty to protect it
We have the honour of living it'
Maria McGuiness rsm
Messages to: Natalie Anderson
Photos:
1. Immersing in all things Irish! With Kathleen Donnellon (Board Member, Mercy Works) and Deb Carter (Chief Operations Officer, Fraynework)
2. Catherine's room at Baggot Street
3. 2015 Dublin Pilgrimage participants