Archived News Item
Australian Parliament will say "˜sorry'
February 7, 2008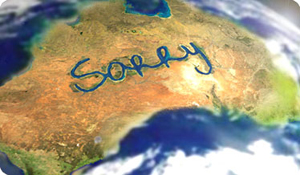 In January, Prime Minister Kevin Rudd announced that the Australian Government will say 'sorry' to the Stolen Generation. Tom Calma, Aboriginal and Torres Strait Islander Social Justice Commissioner sees this as an historic opportunity to unite Australia. In December, Mr Calma delivered the first speech, "Sorry", in a series on "Essentials for Social Justice", outlining an agenda for change across all areas of Indigenous affairs.
Graphic from Get Up!
As Mercy M@tters is being published Prime Minister Rudd is finalising the wording of an apology from the Federal parliament to the Stolen Generation, their families and descendants.
Incorporated into the opening ceremony for Parliament on February 12, a Welcome to Country will be delivered by Elder Matilda House on behalf of the Ngunnawal People.
In a media release on January 30, 2008, Aboriginal and Torres Strait Islander Social Justice Commissioner Mr Tom Calma said, "saying sorry to members of the Stolen Generations is an essential step in healing and progressing life outcomes for Indigenous Australians and congratulated the federal government for its announcement today that it would make a formal apology on 13 February."
"I welcome the commitment by the Prime Minister to make this national apology on behalf of the Australian Government and see it as an historic opportunity to unite Australia," Mr Calma said.
"An apology that acknowledges the existence and the impact of this dark aspect of our history where Indigenous children were forcibly removed from their families, and which pays respect to the Stolen Generations for their suffering, their resilience and their dignity, is an early and exceptional sign of goodwill from the new government."
Full text: "Saying sorry is essential for moving forward".
Reflection:
What is your response to Prime Minister Rudd's announcement?
What are your hopes for future steps?
How will you recognise this significant step in Australian history?
Action:
Getup! Campaign seeks support to maintain pressure on politicians and ensure that saying 'sorry' is more than words and that there is real action for a better future. To encourage unified leadership, Getup is urging its members to send an email to their local MPs, asking their representatives to pledge their support for the apology in the party room and on the floor of Parliament. Send a message to your MP.
Essentials for Social Justice: "Sorry" – Speech by Aboriginal and Torres Strait Islander Social Justice Commissioner, Tom Calma at launch of Us Taken-Away Kids, Sydney, December 11, 2007.
You are urged to read an address by the Aboriginal and Torres Strait Islander Social Justice Commissioner, Tom Calma, given on December 11, 2007 to launch Us Taken-Away Kids – a magazine commemorating ten years since the Bringing Them Home Report was released – as well as the updated Bringing Them Home online educational resources.
The following is an excerpt only. Please make the time to read the entire speech by Mr Tom Calma. FULL TEXT HERE.
Essentials for Social Justice: "Sorry"
This speech is the first in a series of six that I will be delivering nationally over the next four and a half months outlining an agenda for change across all areas of Indigenous affairs.
I have termed this series of speeches Essentials for social justice. Subsequent speeches will address issues ranging from the very serious problem of a lack of engagement with Indigenous peoples in policy making and significant failures in the whole of government machinery currently in operation federally; to the Northern Territory intervention and child abuse issues; to a positive vision for our communities such as by closing the gap in life expectancy, and creating an equal life chance for Indigenous children.
It is appropriate that today's speech, the first in this series, is simply titled: "Sorry".
…let me outline six key challenges for saying sorry and moving forward together.
First, the apology must be done in a consultative and respectful manner.
We know that there is certain wording – or at least, a certain word – that must be included in the apology for it to have meaning for the stolen generations. It requires more than this one word though. There is a challenge to get the balance right between saying sorry for the practices of past governments and taking responsibility, as the present government, to address ongoing impacts and lead the nation to a better, shared future.
For the stolen generations, ultimately the apology must be written by the government for it to have any meaning. So there is a limit to how far this consultation should stretch.
Second, the apology should be specifically about forcible removals.
The purpose of the recommendation in Bringing Them Home is to apologise for policies of forcible removal and consequent harm, as well as to provide guarantees against repetition in the future.
Third, the apology should be done in such a way that it unifies the nation, rather than divides it.
The apology will be all the more powerful for being from the Australian Parliament. As it stands, our national parliament is the only one across the country that has not formally apologised to date.
Fourth, the apology should also be forward looking and set out an aspiration for a united future for all Australians.
While the apology should be specific to stolen generations, it should also affirm the commitment of the federal Parliament to partnerships with Indigenous peoples and to continuing to work to address the legacy of the stolen generations.
Fifth, the apology should not be rushed.
An artificial deadline should not be set for the timing of the apology. The timing should reflect that the elements discussed above have been met: that is, respectful dialogue has taken place; and the process has aimed to build consensus and unify the nation.
Sixth, and finally, the apology should provide a catalyst for the states and territories to be held accountable for their responsibilities in implementing Bringing them home.
From: Carmel Heagerty RSM, Institute Justice Co-ordinator
Email: Institute.Justice@mercy.org.au
Specific Issues Committee, Indigenous Concerns. The Committee warmly invites your response to the article or the issue. (see Indigenous Concerns Blog)
Email: indigenous.concerns@mercy.org.au