Archived News Item
Australian Mercy presence at UISG meeting in Rome
June 7, 2007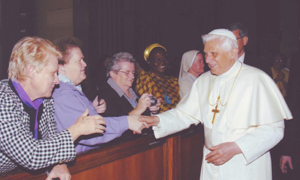 Institute President, Sister Nerida Tinkler and seven Australian Mercy Congregation Leaders were in Rome recently attending the general assembly of the International Union of Superiors General (UISG). Sister Jennifer Hartley, the Institute's Executive Officer reports.
Photo caption: "Greetings from Australia!" said Nerida.
Every three years there is a general assembly in Rome of the International Union of Superiors General (UISG). Sister Nerida Tinkler, President of the Institute, and seven Mercy Congregation Leaders attended this year's meeting. You will see from the photo that they received a very particular welcome from Pope Benedict!
Nerida writes that she found it a fruitful meeting and a good experience of exchange about religious life, mission and spirituality among a great variety of congregations represented by 850 leaders from across the world. The universality of the Church was tangible.
All the papers from the UISG meeting, together with the Pope's address, are published in English on http://www.uisg.org
The theme was: Challenged to weave a new spirituality which generates hope and life for all and the keynote papers reflect various strands of the topic: Sr Marie Angèle Kitewo SNDdeN, "The Woman with Full and Calloused Hands", Sr Donna Geernaert SC, "The Earth and its Sacredness", Dr Adnande Mokrani, "Inter-Religious Dialogue as a Spiritual Way", Sr Christine Lorcy FJ, "Immigrants and Displaced Persons," Sr Katrina Brill RSJ, "The Laity Strand".
The Conference declaration concludes:
In gratitude for the mission entrusted to us, we will:
§ Engage in on-going dialogue between the Word of God and life, the heart of our commitment as consecrated women called to follow Christ.
§ Network and use the power of our collective voice to denounce unjust laws and structures which exclude people on such bases as gender, religion, culture.
§ Promote all forms of dialogue, and in particular inter-religious dialogue, recognising our common responsibility for humanity.
§ Grow in an ecological awareness and express this in concrete and consistent choices.
§ Encourage a vision of Church as communion where a real partnership with laity is lived.
§ Form consecrated women ready to respond to these challenges with faith and daring.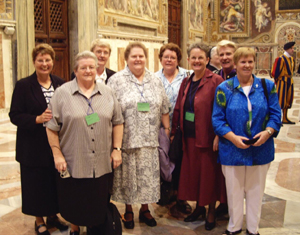 Photo caption: Here we are! After a climb of 152 (painfully- counted) steps to the Hall of Blessing in the Vatican, we're ready to meet Pope Benedict… (L to R) Sisters Sandra Lupi (Brisbane), Pat Lynch (Wilcannia-Forbes), Barbara Bolster (Grafton), Nerida Tinkler (Institute), Faye Kelly (Cairns), Berneice Loch (Rockhampton), Ailsa Mackinnon (Parramatta) and Breda O'Reilly (Perth).
From: Sister Jennifer Hartley RSM (Institute Executive Officer)