Archived News Item
Australia marks 40th anniversary of 1967 Referendum
March 15, 2007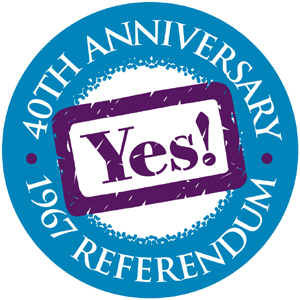 The year 2007, and specifically Sunday 27 May 2007, marks the 40th anniversary of Australia's most successful referendum and a defining event in our nation's history.
The 1967 referendum saw more than 90% of eligible Australians vote to acknowledge Indigenous Australians as citizens and to give the Commonwealth Government power to make laws regarding Indigenous people. This event is often referred to as the first stage of the reconciliation movement in Australia.
The anniversary provides a rare and significant opportunity to encourage the Australian community's interest in reconciliation.
Reconciliation Australia is making this anniversary a focus for 2007.
If Indigenous and non-Indigenous Australians working side by in the lead-up to the referendum could achieve such a resounding result, imagine what Australians can do to progress today's reconciliation agenda!
We have learned so much in 40 years about the foundation for building meaningful relationships and about the roles each Australian plays in doing that for the benefit of the nation, socially and economically.
With this in mind, Reconciliation Australia (RA) is working with partners in delivering a year-long program of activity in 2007 designed to:
§ Raise the profile of reconciliation as an important issue in contemporary Australia;
§ Promote to all Australians a greater understanding of what reconciliation looks like in many different settings; and
§ Enlist measurable long term action plans from businesses and other organisations towards the overarching objective of closing the 17-year life expectancy gap between Indigenous and non-Indigenous children, including health, education, employment and relationship building.
May 27, 2007: Their Spirit Still Shines
On May 27, 2007, the Prime Minister and Leader of the Opposition will take part in the main commemorative event of the year at Old Parliament House in Canberra.
Honoured guests at this event, Their Spirit Still Shines, will be surviving members of the Federal Council for the Advancement of Aboriginal and Torres Strait Islanders (FCAATSI) who played such an important part in the campaign which culminated in the overwhelming "Yes" vote. Other guests will include high achieving Australians who took part in the most recent Australian Future Directions Forum (AFDF) and young Indigenous leaders.

The event, which is supported by a grant from the Australian Government through the Department of Families, Community Services and Indigenous Affairs, will commemorate the achievement of the 1967 Referendum by Indigenous and non-Indigenous campaigners, with the overwhelming support of the Australian people. It will use the anniversary to shine a light on reconciliation activities taking place across Australia today and how much more can be done based on what has been learned over 40 years.

Complementary activities (events, exhibitions, seminars etc) will take place in the States and Territories on May 27 and throughout the year. These will be co-ordinated on a National Calendar of Events which is being developed by Reconciliation Australia.
One Future Forum
The day after the ceremony, a three-day forum of 50 Indigenous and non-Indigenous young achievers will begin. This will be a flow-on event from the Australian Future Directions Forum (AFDF) held in February 2006 which had the Prime Minister as Patron. The Forum, which involved high achieving economists and other professionals, academics, politicians, environmentalists etc, voted overwhelmingly that "ending Aboriginal and Torres Strait Islander disadvantage" was the nation's top priority.

A significant number of the forum delegates are now planning to work together to give meaning to that pledge. The title of the 2007 forum is "Reconciliation in Action". It is being supported by the Australian Government as well as Australia Post, nab and Qantas who also sponsored the AFDF. Delegates will come together again to discuss how to advance the AFDF outcomes through the development of a Reconciliation Action Plan towards closing the 17-year gap in life expectancy between Indigenous and non-Indigenous children. http://www.reconciliation.org.au/i-cms.isp?page=345
The following website connects to the excellent education and information site on the 1967 Referendum. Follow the links for detailed information of issues around this significant event for Australia. http://www.macnet.mq.edu.au/anonymous@FFC76753752/-/p/67referendum/index.html
OTHER WEBSITES OF INTEREST

Forty Days of Action around issues related to the 67 referendum and the forty years since: http://www.ncca.org.au/natsiec/indigenous_poverty/action/40_days_of_action

National Harmony Day on March 21 2007:
http://www.ncca.org.au/__data/page/2614/Harmony_Day.pdf
International Day for the Elimination of Racial Discrimination on March 21 2007:
http://www.ncca.org.au/__data/page/2614/Int._day_for_the_elimination_of_racial_discrimination.pdf
CALL TO ACTION
Commonwealth Day – March 12 – is a day for Commonwealth countries, which represent a quarter of all humanity, to acknowledge their common bonds and the contribution of the Commonwealth of Nations to the creation of a harmonious global environment. Each year the day is celebrated with a different theme, this year the theme is Respecting Difference, Promoting Understanding.
So what does Commonwealth Day have to do with Indigenous poverty? Firstly, we need to recognise on this day that poverty and other issues that Aboriginal and Torres Strait Islander people experience today is a direct result of colonisation. We need to constantly remember that in 1788 when Australia was claimed by the British, so began the alienation, dispossession and marginalisation of the original owners. Secondly, we need to know what the Australian Government is doing to ensure that the Commonwealth theme of "respecting difference, promoting understanding" extends to include Aboriginal and Torres Strait Islanders, and what strategies are in place to ensure this.
ACTION SHEET for Commonwealth Day and a Letter to the Prime Minister
http://www.ncca.org.au/__data/page/2614/Commonwealth_day5.pdf
From: Specific Issues Committee, Indigenous Concerns (Sisters Rose Glennen and Liz Rothe)
Contact: Carmel Heagerty RSM, Institute Justice Co-ordinator