Archived News Item
Australasian Mercy Archivists gather in Brisbane
September 22, 2011
The Australasian Mercy Archivists' Conference was held from September 5-9 at the Diana Plaza Hotel close to the Mater Hospital in Brisbane. Annie Q. Medley, Congregation Archivist for the Perth and West Perth congregations, reports on the event.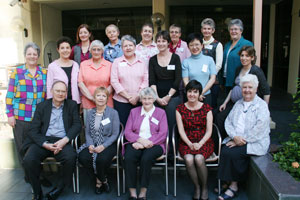 Eighteen participants gathered for the biennial conference of Mercy Archivists on the theme 'Living Mercy Through Good Archival Practice'. Together with archivists from Australian congregations and the Institute, we were joined by Stephanie Kitching RSM (Sisters of Mercy, New Zealand).
At the official opening Sandra Lupi (Brisbane Congregation Leader) warmly welcomed delegates to the conference; this was followed by the presentation of the Brisbane Story by Kay Lane.
The conference program was a very full one for the week and topics presented included:
Care of Collections –-Christina Ianna – State Library of Queensland.
Textile Conservation – Conservator Michael Marendy.
Reflections on the review of Mercy Archives – Archivist Michael Piggott.
Policy for Mercy Archives.
Digitisation of Records by Niles Elvery, Queensland State Archives.

As well as conference papers and presentations, tours were conducted that included the Brisbane State Archives, where staff made us most welcome, Mater Archives and Heritage Centre with Jackie Chamberlain exploring the history of the Brisbane sisters and health care. Also a delightful afternoon exploring the fascinating displays at the Mercy Heritage Centre with our guide Peter Connell followed by a much appreciated high tea.
Before the closing ceremony all delegates shared an hour together discussing their thoughts and aspirations for the continuing spirit of Mercy within this group.
Our gratitude for all the hospitality and hard work is extended to Sister Kay Lane (Archivist, Brisbane Congregation) for organising this conference for us.
A new committee for the next two years was elected from those present: Jane McGee (ISMA), Joanne Ng-Murphy (North Sydney), Annie Q. Medley (Perth and West Perth) and Stephanie Kitching (New Zealand).
From: Annie Q. Medley (Perth and West Perth)