Archived News Item
AUS-NZ annual leadership meeting
March 15, 2007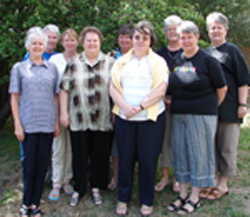 The Institute Leadership Team – Sisters Nerida Tinkler, Caroline Ryan and Karon Donnellon – recently hosted Sister Denise Fox, Leader of the Sisters of Mercy New Zealand, with her Council – Sisters Clare Vaughan, Mary Catherwood, Kathy Lynch and Patricia Rowe – in meetings to discuss issues of mutual concern.
These included the operation of the Mercy International Justice Network; ways of enhancing each country's Initial Formation Program; and how the emerging vision of the Mercy International Association might be most effectively implemented.
During these days held at the Presentation Sisters' holiday house at Mount Eliza, Victoria, Irish Sister of Mercy Deirdre Mullan RSM, who was "in town" to deliver the occasional address for the 150th anniversary of Ursula Frayne's arrival in Melbourne, visited the group.
Deirdre's sharing about her ministry as Executive Officer for Mercy Global Concern at the United Nations, and the work and scope of the UN to facilitate practical justice in some of the poorest places of the earth was inspiring and challenging.
Next year in August the New Zealand sisters will host the Australians for this annual meeting which is always much appreciated by both parties.
Pictured L-R: Sister Mary Catherwood, Patricia Rowe, Kathy Lynch, Nerida Tinkler, Clare Vaughan, Deirdre Mullan, Denise Fox, Caroline Ryan and Karon Donnellon.