Archived News Item
At the market: Goroka, PNG
July 8, 2008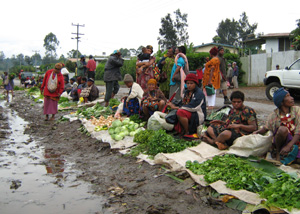 In Papua New Guinea (PNG) most of the population live in rural areas and rely heavily on agriculture to survive. But due to high levels of poverty, significant numbers of people are moving to urban centres to access services and to find employment.
This rapid movement of people has impacted heavily on urban centres like Goroka in the Eastern Highlands Province. As a result, levels of poverty, unemployment, crime and violence have escalated. This experience is heightened in the growing settlement populations surrounding Goroka, where people live in severe circumstances without access to basic services.
For people in the settlements, the local markets are crucial for their survival, according to Sister of Mercy, Maryanne Kolkia.
She says the settlers rely on selling their produce at the markets to support themselves and their families. Some sell produce they have grown, mainly fruit and vegetables, but most buy from local gardeners and then re-sell.
A lot of these "settlers" are improving their chances at earning an income by attending budget training sessions offered by the Mercy Works PNG Project.
"We can see changes already happening with individuals," says Maryanne, who is a member of the project's management team.
"They are able to manage their money better. In the past they used all their money and didn't save or didn't use their money to make more money again."
She also says that women are opening personal savings accounts. "For many of them this is new."
Maryanne reports that the number of training sessions has increased. About 20 people attended the latest budgeting session, mostly women, aged between 20 and 40.
"Word of mouth is strong in PNG. In our society we don't have effective communication technically but our way of doing things is when we need to send a message or when something good happens, people spread word among themselves. Those who come to our training sessions see the goodness of it and they are the group who go back to the community and encourage others to come."
Training sessions also involve follow-up. Maryanne explains that before each person leaves the session they nominate a personal target or goal for the month. When they return, they share how they have progressed with the group.
Budgeting was one of many issues raised by local people when the Mercy Works PNG Project held initial consultations in 2006. Other issues covered in training sessions include health and human rights. These sessions, along with advocacy support and referral services, are conducted at a drop-in centre in Goroka. Due to the project's success, the team has received requests from villages in outlying areas.
About Mercy Works Inc.
Mercy Works Inc. supports the local and overseas relief and development activities that are part of the vision and mission of the Institute of Sisters of Mercy of Australia.
The programmes engage in partnerships with communities to promote justice, self reliance and to support displaced people and communities who are denied access to basic resources such as education, health care and social welfare.
Would you like to partner with Mercy Works Inc. to support community development initiatives that reduce poverty levels in Goroka, Papua New Guinea? Find out more.