Archived News Item
ASSOCIATES IN MERCY
December 5, 2016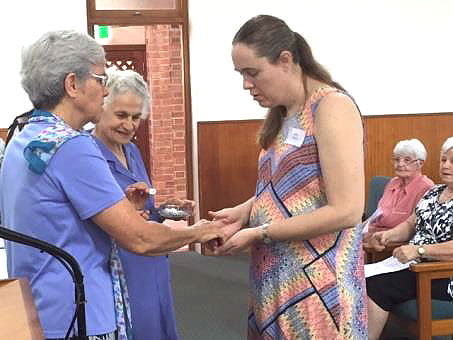 5 December 2017
The Ceremony of Commitment for Mercy Associates in the Rockhampton area took place on the 30th October, 2016 at Our Lady of Good Counsel Chapel, The Range.
The ceremony was to celebrate the recommitment of the existing members to the new structure of the ISMAPNG Mercy Associates and to welcome our new members. In total, thirty-six members participated in the ceremony. In addition to this, it was also the day to celebrate the Silver Jubilee (25 years) of Mercy Associates in Rockhampton, the group being founded in 1991.
The ceremony followed the Celebration of Eucharist and Helen White rsm (Community Leader of the Northern Region of the Institute of the Sisters of Mercy of Australia and Papua New Guinea) presided over the ceremony. All members, old and new, received certificates and badges to honour their commitment to the Mercy Associates. We offer special thanks to the musicians and Mary Davies for leading the singing.
After the ceremony a lovely morning tea was shared by the newly committed Mercy Associates and the Sisters of Mercy. Thank you to all who provided food to share at the morning tea. The 'Celebration & Welcome' cake was cut by Maureen Hanrahan (outgoing Chair) and Del Murphy (the new Vice Chair of the group).
It was at the morning tea that Beryl Amedee rsm introduced the new leadership group to the gathering. They are: Chair: Ailsa McLaughlin, Vice Chair: Del Murphy, Secretary: Sonya Franklin, Vice Secretary: Beryl Mills, Treasurer: Cathy Maloney, Vice Treasurer: Peter Maloney, Media Liaison: Helen Truscott.
Mrs Del Rowan presented the 'New Ponderer' Number 1 and explained how it came about. A copy was given to each person at the Morning Tea. Del will be issuing 'New Ponderer' regularly throughout the year.
Special thanks to Sister Helen for traveling to Rockhampton for this very special occasion, presiding over the ceremony and attending the Morning Tea. Also to the many Sisters of Mercy who attended the Ceremony and Morning Tea, we thank you for your support. Thank you to Marie Riddel rsm for her words of appreciation to Sisters Helen, Beryl, Andrina and Regina. We especially thank Sr Beryl for her commitment and passion for Mercy Associates. It is obviously a special cause that is extremely close to Sr Beryl's heart and her passion for the group is contagious.
All enjoyed this very special day and look forward to gathering throughout 2017.
Messages to: Sonya Franklin