Archived News Item
Artwork commemorates PM's apology
September 4, 2008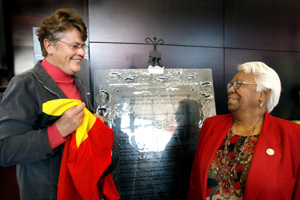 On July 25, the Sisters of Mercy of the Goulburn Congregation presented a glass artwork to Albury Museum, commemorating Prime Minister Kevin Rudd's apology to the Stolen Generations on February 13, 2008.
The glass plaque, the work of Indigenous artist Mr Sam Juparulla Wickman, was commissioned by the Goulburn Congregation at the instigation of Sisters Maureen Hummerston and Mavis Hanlon.
On the plaque the words of the apology are recorded surrounded by pairs of feet. Half of the feet represent women dancers and the other half men.
The unveiling of the artwork was performed by Sister Marie Duffy, Congregation Leader, and Mrs Rita Wenberg, Local Aboriginal Elder (pictured above). On behalf of Albury City, the Mayor, Mr Stuart Baker, welcomed the artwork.
Sisters of Mercy were present from both the Melbourne and Goulburn Congregations and we also appreciated the presence of the Presentation Sisters from Rutherglen.
Not only did we acknowledge the Aboriginal owners of this Murray River region of NSW and Victoria, but we had the privilege of being welcomed to the land by the local Aboriginal People, many of whom were present.
Appreciation for the words of the apology which Mr Rudd had made on behalf of all Australians was expressed by all speakers, and the plaque was recognised as a permanent record of this significant step in furthering partnership between Aboriginal and non-Aboriginal people of Australia.
Photo credit: picture provided by The Albury Border Mail (26.07.08, p.21)
From: Sister Shirley Garland RSM (Local Communications Facilitator, Goulburn)