Archived News Item
Artful giving in the Nairobi Community – Photographic Exhibition at the Mercy Heritage Centre Perth
May 29, 2017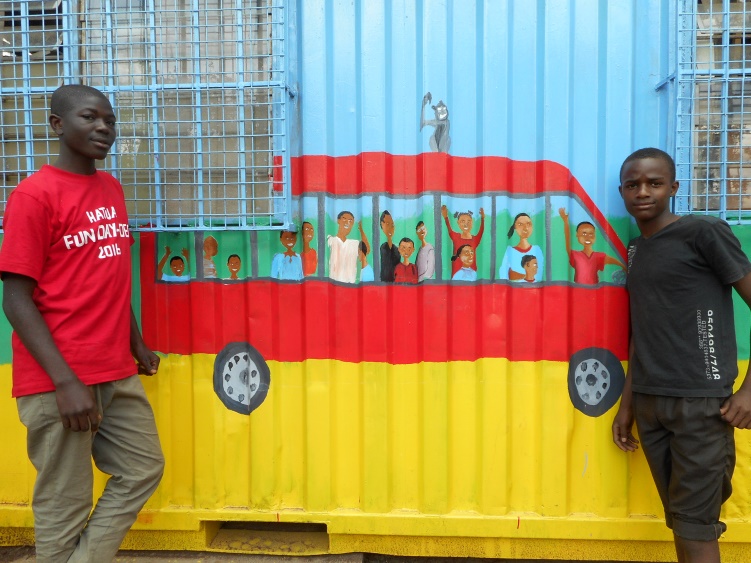 Pauline Masters rsm has recently spent time in Kenya working with youth from the slum areas in Nairobi focussing on art-related projects in what she describes as 'lifegiving and joyous'. Sr Pauline's wonderful photos are currently showing as part of an exhibition at the Mercy Heritage Centre Perth.
Sr Pauline's interest in Kenya began in 2006 when Sr Pauline travelled across the Indian Ocean to work with the Sisters of Mercy in Kenya.  This short-term appointment took her to Chepararia, a rural village about nine hours north west of Nairobi.
"At this time I was working in a little nursery school", said Sr Pauline.  "As well as introducing staff to up-to-date methods of instruction, I had the idea to paint the dull grey walls with colourful murals.  The children were very excited to see the walls changing colour and animals, birds and frogs being put up.  There were even more excited when they had turns in painting the elephant and flamingos."
It wasn't until nine years later that Sr Pauline returned to Kenya.  She was invited by Mary Killeen rsm, Director of Mukuru Promotion Centre (MPC), to teach art to the youth and help with art projects.  She spent eight months there in 2015 and enjoyed the work so much that she returned in 2016 to carry on with that work.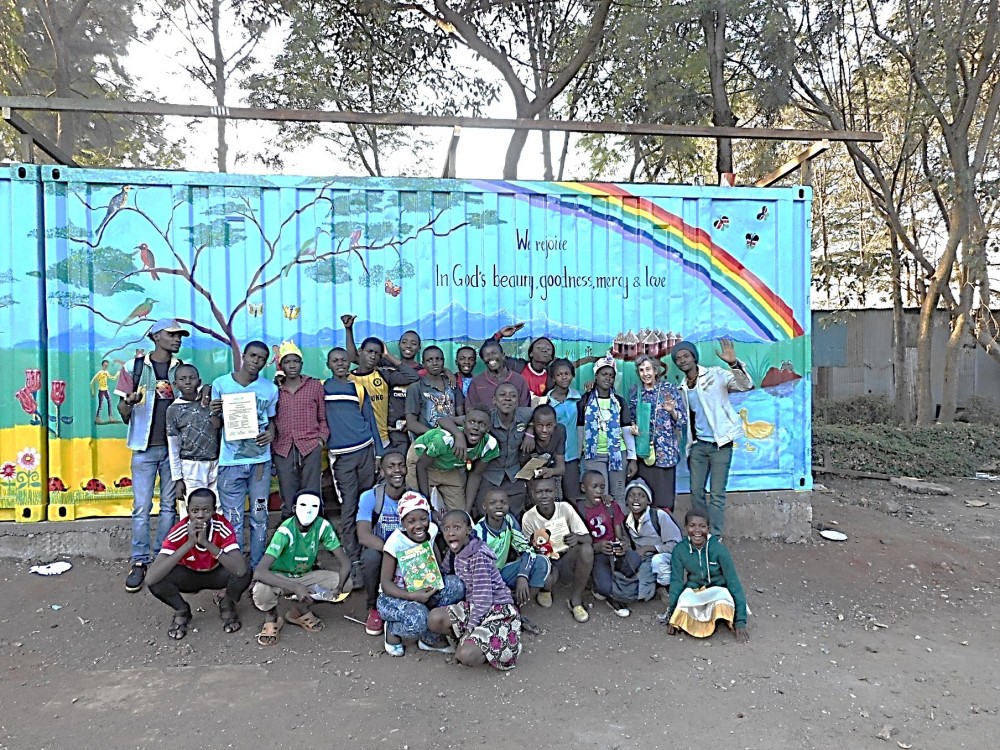 "The work we do over there is really important," says Sr Pauline.  "Mukuru Promotion Centre is close to the slums so we are working with youth and people who live in these poor conditions and making a big difference in their lives."
Apart from overseeing several primary schools sponsored by the Sisters of Mercy and running a medical clinic – St Marian's Home for Children and Mary Immaculate Rehabilitation Home for Street Boys – MPC offers vocational schooling to youth.  The courses include computer technology, hairdressing and beauty, dressmaking, catering, plumbing and art.  The aim of the vocational courses is to offer practical skills that can assist the students to earn a living.  The art students do not pay fees but instead contribute to the MPC by giving a percentage from the sale of their art works.
"The children of Kenya really value the opportunity of going to school but, for the poor, it is difficult," Sr Pauline explains.  "For example, when they cannot pay a small fee, they are sent home and not allowed to come back until it is paid.  And to get into secondary, children have to get good marks in a national exam.  The Sisters have set up sponsorship schemes to help many children and youth with school fees."
One of the most notable projects with the art students in 2016 was the creation of murals on shipping containers. Shipping containers are being used at MPC sites for offices and clinic consultations.  So, when two shipping containers were offered for an art gallery, the art department went into action.
"Luckily, from early-November, we had extra students because we run a 5-week program for Year 8 leavers after their exams so that they will have something of value to do and keep them well-occupied in the long break," said Sr Pauline.  "This year, other small children, came along as well."
So, after preliminary lessons in painting and craft, the mural project began.  Sr Pauline gave some instructions on how to prepare surfaces for painting.  The boys cleared the land, put down slabs of concrete for the shipping containers to rest on.   They then cleaned and scrubbed the containers, rust-proofed where necessary and painted yellow and blue to create the 'canvases' for the art work.
When asked about out how students were selected for the Savannah scene, Sr Pauline explains that it started with a simple question such as, "Can anybody draw a lion?".
"A few hands went up and I said, 'Go and draw it on the blackboard'; I picked one student for each animal and was completely amazed at the talent and interest displayed by these young people."
"Every child participated in some way.  Apart from the major features of the mural which was praising the works of God the girls and small children painted fish, flowers, tortoises, snails and insects including many butterflies," said Sr Pauline.  "I wanted the work to be something of beauty and inspiration and I was more than pleased when so much good work was done.  There was such a spirit of camaraderie and co-operation.  I am sure this work will remain very important, not only to those who participated in its creation, but to those who will pass by it every day."
Sr Pauline hopes to return to Nairobi in August, 2017 for four months to continue her wonderful work.
To visit the exhibition of Sr Pauline's photos at the Mercy Heritage Centre Perth, please contact Annie Medley, Curator.
29 May 2017