Archived News Item
Art with a Personal Touch
February 27, 2017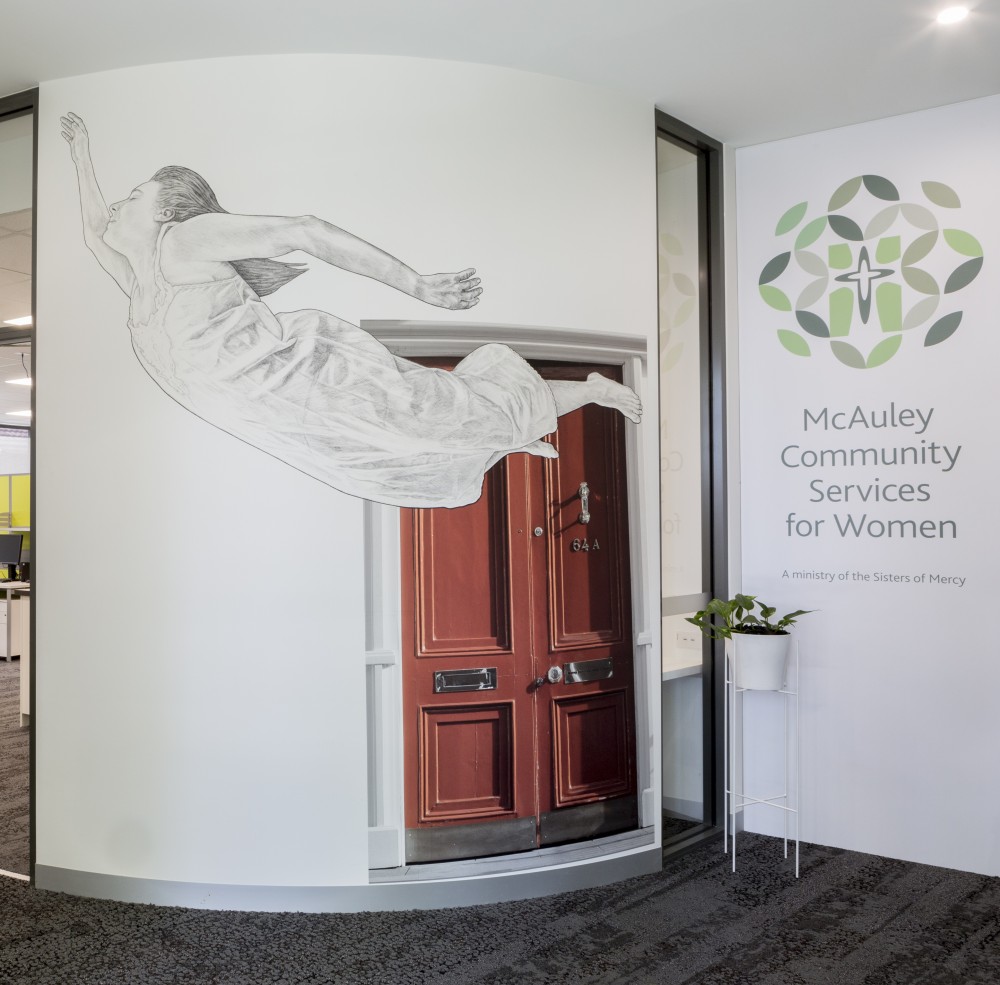 Sadly, Melbourne street artist Baby Guerrilla didn't need too wide a brief to create artwork for the new McAuley House in Pickett St, Footscray. Last year she ended up in hospital after being brutally attacked in her own home. Advised by police not to return to her home, she found herself homeless after leaving hospital. Yet, despite the trauma, she remains hopeful of the future and her artwork, at the reception area of the new McAuley House, reflects her resilience and hope.
"The image is the first thing people will see when they walk into the building so I wanted it to be uplifting and full of hope," said Baby Guerrilla who uses her street art name to remove herself from her art. She wants the focus to be on the art and not on her.
"I created this work as a testament to the resilience of the human spirit. It stems from my own experience of violence and assault. The underlying philosophy behind most religions, and the appeal of meditation for me, is the belief that part of us is purely spirit, an energy that can't be broken. This piece is a celebration of spirit."
Baby Guerrilla was lucky to survive the beating without a brain injury. The offender was charged and is currently serving a five-year jail sentence. Understandably, the experience robbed her of her home and sense of place. She found somewhere new to live, but her sense of safety was shattered.
She is delighted that her work will adorn a wall of the new $11 million McAuley House, a place for women who are homeless. Her 3 metre by 2.5 metre drawing features a woman soaring upwards and a big red double door, a reference to the doors of the House of Mercy in Dublin which were first opened in 1827 by Catherine McAuley, foundress of the Sisters of Mercy.
Baby Guerrilla is a paste-up artist which means the image created using ink, texta, and a range of other materials is produced off site and then attached to the wall piece by piece.
There is some iconic Baby Guerrilla street art around Melbourne including murals on the façade of the Victoria University and a 24 metre high mural commissioned by the Melbourne City Council in Russell Place in the CBD. Her love of street art grew from a desire to make art accessible to everyone and not just people confident or knowledgeable enough to go to galleries. As an artist she tries to use her talents to enhance spaces and contribute something to the environment in which she lives.
While her mural on the new McAuley House wall will not be open to the public, it will be seen day in day out by the women who will live there and they are the people Baby Guerrilla had in mind when she created the work.
"The woman I created is soaring upwards, but it is up to each person to make of it what they will. I hope it gives people a lift when they see it," she said.
"My art practice comes from a place of love and transcendence. I am known for large-scale public murals of human figures flying, falling, diving. I want my work to appear to defy gravity and constraint, to evoke a sense of wonder, freedom and escape. I believe that we are all interconnected and that we have the power to inspire each other and change the world for the better," she said.
Messages to: Rosie Hoban
27 February 2017