Archived News Item
Art exhibition honours stories of faith
August 13, 2009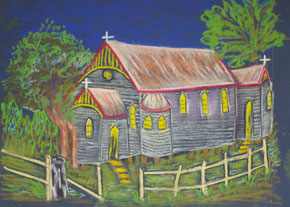 A recent exhibition of artwork by Grafton Sister of Mercy, Margaret Bray, featured colourful drawings of the typical wooden churches once seen in Australian rural communities. But this exhibition did more than preserve an important part of Australia's rich religious and rural history. It honoured the faith and community spirit of the pioneers who built the churches and worshipped in them, writes Sister Colleen Rhodes RSM.
The Roxy Gallery in Kyogle, in the Northern Rivers area of NSW, recently held an art exhibition that portrayed many of the old wooden churches once seen in the small farming communities that were at the heart of Australian country life. These buildings gave a focus to the faith life of so many Australians.
An exhibition of "Country Churches: A Tribute To Our Pioneers" is the work of Sister Margaret Bray RSM. For some ten years, Margaret has been working with elderly people, attempting to cheer and nourish them in faith and devotion now that they cannot get to Church because of frailty or illness.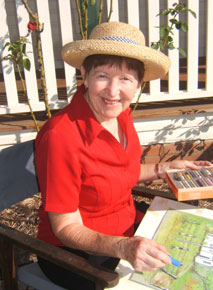 Marg has been inspired by the stories of these older people whose faith is so much part of the history of the region. Listening to them encouraged her to reflect on her own faith and how her childhood at Ghinni Ghi (near Kyogle) was influenced by the local community, the buildings the people gathered in and the sacrifices they made to participate in the liturgy of the Church.
Here, the people lived with fun, affection and solidarity with family and friends in want and plenty, bereavement and birth, war and peace.
Choosing pastels as her medium, Marg began creating images of the country churches that had sustained the people whose stories she was hearing. By the time her exhibition was being staged in Kyogle, Marg had completed over 50 vibrantly coloured drawings of churches in the north-eastern corner of NSW. Often these churches were built by the people with their own hands, their own horses, and local bullock teams.
Frequently they were ecumenical enterprises as the people worked together to raise money and do the physical work of building. Some of the buildings were shared by different denominations for their prayer.
As Margaret says: "The bush was generations ahead of urban practice in this, as the mature humility of knowing that they needed each other highlighted each other's 'good faith', and what they had in common about God, life and Christ."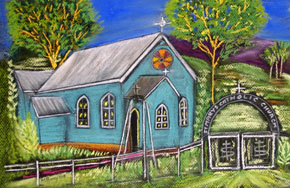 Today, most of the churches included in Marg's collection have been sold. Some have been converted into houses; some are used for other purposes. Fortunately, there are communities where older churches have new life and local leaders who include women.
"A Tribute To Our Pioneers" was presented at the Roxy Gallery in Kyogle during the month of July. Those who visited the exhibition found themselves engaged with the local communities through photographs depicting weddings that were celebrated in the churches, local families whose children served in war, and men and women who became nurses, teachers, missionaries and members of religious orders.
Artefacts from many of the churches gave added interest: vestments, altar vessels, candlesticks, old prayer books, missals and bibles from the various denominations were on display.
The exhibition was beautifully presented, moving visitors to remember their own story and their own forbears in the faith.
Marg reminds us: "Churches used to be a part of every significant moment in a person's life, from birth to death. The way we used to gather as a community together at church is being lost now in our society."
It is Marg's hope that, through her work, others might rediscover the richness and beauty of their own faith communities and those whose lives made them possible.
From: Colleen Rhodes RSM, Local Communications Facilitator, Grafton