Archived News Item
Are you willing to be disturbed?
June 9, 2010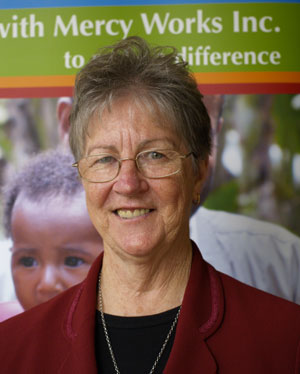 Margaret Wheatley, in her book, Turning to One Another: Simple Conversations to Restore Hope to the Future, writes: "As we work together to restore hope to the future, we need to include a new and strange ally – our willingness to be disturbed".
In 2000, 189 world leaders signed the Millennium Declaration. This Declaration led to the development of eight Millennium Development Goals (MDGs) – a concrete action plan to halve world poverty by 2015.
It is now 2010, and although progress has been made, there is disturbing evidence indicating that the goals are far from being realised. And time is running out fast.
For example, the third millennium goal aims to promote gender equality and empower women, yet it is well documented that women and girls in developing countries experience great poverty and injustice. A major contributing factor to this gender inequality is the lack of educational opportunities for women and girls.
Addressing the need to empower women also highlights the need to provide opportunities for the education and support of men, especially as traditions and lifestyles change. The disempowerment of men and the lack of employment opportunities are known to create problems, especially violence directed towards women and children.
Mercy Works Inc., in choosing the activities it supports, makes a strong commitment to empower women. We believe that by promoting gender equality and empowering women and girls, we will go a long way to reducing poverty for the whole community.
To illustrate this, let me share a story from Mercy Works Papua New Guinea.
Over the past few years, the Sisters of Mercy have provided educational and skills-building programmes for women in the Bihute Prison just outside Goroka. Bernadette, a recently released prisoner, had participated in many of these programmes. On her return to her village, she implemented the skills she had learnt which encouraged her fellow villagers to request help in developing their own skills.
The Mercy Works PNG team in Goroka were approached and are now offering skills-building programmes to 35 women in the village. News has it that change is already happening! These 35 women are benefiting, but so too are their families and the wider village!
Margaret Wheatley, in the opening quote, names "our willingness to be disturbed" as "a strange ally". It is hoped that, when you have read the contents of this edition of The Bilum, you may be disturbed enough to embrace the activities of Mercy Works Inc.
We hope that you will become more aware of the many issues affecting our near and far neighbours and decide to take action in ways that are appropriate for you. That may be by simply passing a copy of The Bilum on to someone you know or by financially walking with us. Whatever you decide, we thank you in anticipation for your support.
Rosemary Carroll RSM
Executive Officer