Archived News Item
Are asylum seekers finding "freedom from fear"?
June 30, 2010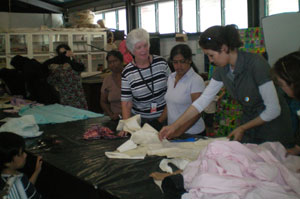 "Freedom from fear" is the theme of Refugee Week celebrations across Australia from June 20 to 26, 2010. The quest for "freedom from fear" is at the heart of a refugee's flight from danger. But is this the experience of people currently seeking asylum in Australia? Sister of Mercy, Joan Kelleher, who is offering pastoral support to the 2,500 asylum seekers detained on Christmas Island, believes recent policy changes and proposals in Australia are reinforcing a climate of fear for these vulnerable people.
BY Stephanie Thomas
Sister of Mercy, Joan Kelleher is "appalled" by the Federal Government's recent policy change which has enforced the suspension of refugee applications from Afghani and Sri Lankan asylum seekers.
Joan is alarmed that this policy change targets two vulnerable ethnic groups – Hazaras from Afghanistan and Tamils from Sri Lanka – who have both fled from war and discrimination. She questions the logic of such a policy change when it is unsafe for many of these people to return to their homelands.
Joan believes the Government's new policy will have a detrimental effect on the mental health and well-being of those in detention. Since the changes came into effect, she says the mood of the people has altered drastically. "They have become withdrawn, highly anxious, unsure of their future, and there is a lot of tension," she explains.
Joan is also "appalled" by the Federal coalition's proposed asylum seeker policies which she describes as "inhumane". If the coalition wins Government at the next election, their policies will include processing all asylum seeker claims outside Australia, turning boats back and reintroducing Temporary Protection Visas.
"I know that prolonged detention of asylum seekers inflicts grievous suffering and often leads to mental health issues for many innocent people," says Joan.
"It is well known that people who have had Temporary Protection Visas experienced a crippling fear and anxiety due to the uncertainty of their future which often led to serious health issues.
"I do not believe that this proposed policy reflects the compassion and goodness of many Australians."
Joan is well-placed to make these claims. From 1990, she spent 11 years working in refugee camps in Nepal, Malaysia, Thailand and Uganda – experiences that have prepared her well for her role supporting asylum seekers on Christmas Island.
But Joan says there is a difference between her overseas and Christmas Island experiences which she finds hard to reconcile: the people seeking asylum on Christmas Island are being detained on Australian soil. "It's a pretty drastic stance that I think we are taking," she says with some emotion.
Joan is adamant that asylum seekers should be processed on Australia's mainland. Not only would it be more humane; it would also be less expensive. "The cost of processing people on Christmas Island is enormous," she says.
According to Joan the current situation is also taking its toll on local Christmas Islanders. The cost of living on the island has dramatically increased; the water supply is running low and the sewerage system isn't coping with the number of people.
"They've never had so many people on the island… It's not just the asylum seekers. There are also the staff and service groups on the island. The infrastructure is not developed enough," she explains.
Late last year, when the number of boat arrivals increased, the Institute of Sisters of Mercy of Australia formed a partnership with Jesuit Refugee Service to provide pastoral support for people at the Island's detention centres. Joan is the third Sister of Mercy to participate in this pastoral initiative. (Her predecessors were Sisters Maureen Lohrey and Lizzie Finnerty). It's a role Joan describes as one of "accompaniment" and "being available where there is a need".
On most days, Joan visits the three detention centres on the island, where she is able to mix freely with people without a security escort. In the mornings she attends the two low-security centres: one for families and minors, and the other for single men. After lunch she visits the high-security men's facility, located about 20 kilometres from the town centre.
Although her days are long and demanding, Joan feels privileged to hear the stories of people who have travelled from war-torn countries, and describes it as "a humbling experience".
"The people welcome us day after day with open arms; even the new arrivals welcome us and are happy to share their stories. That is rewarding," she says.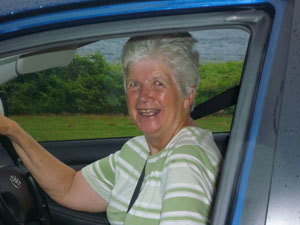 Joan's role is often unpredictable: "You just never know what the day brings or what you're asked to do". She mentions being called on to support someone who had attempted suicide, and the occasion when she helped to organise a ritual for a family who had been unable to have a funeral for two of their children killed in Sri Lanka last year. Recently, the Australian Federal Police asked her to be an independent witness at an interview where an asylum seeker had reported domestic violence.
Joan's role requires great openness and flexibility. A resource that has contributed significantly in this regard has been a car, made possible through support from Mercy Works Inc., the relief and development agency of the Sisters of Mercy of Australia. Joan is very grateful to Mercy Works Inc. for its support.
"Having a car has been an enormous blessing to this programme," she says. "It means you can stay later or go in at night time. It's essential for pastoral care."
When asked what she'd like to say to those people who are fearful about the number of asylum seekers arriving on Australia's shores, Joan's response is to simply appeal to the goodness and compassion of Australians.
"I believe that many of the asylum seekers are genuine refugees. Sure I haven't heard their whole story, but I do believe there are many people who need to be given asylum and they cannot go back to their situation at home," she explains.
"They are desperate people. One recent boat arrival had travelled from Sri Lanka to Christmas Island. It took them 25 days – a group of 60-plus people. Nobody would do that in their right mind unless they were desperate. They arrived with no water and food."
Joan believes that the asylum seekers have a lot to offer the Australian community. "Many are skilled, professional people… I just pray that we will be open to receive them gratefully as we have done in the past."
Mercy Works Inc. needs your help to continue its vital work supporting asylum seekers and refugees. To find out about other refugee projects supported by Mercy Works Inc. click here OR phone (02) 9564 1911 OR email us OR make a donation here.