Archived News Item
ARCHIVES AT WORK
May 19, 2016
The Mercy Heritage Centre in Perth presently has a Writer in Residence – Odhran O'Brien.

Odhran was born in County Galway, Ireland. Having moved to Perth at a young age, he pursued a growing interest in Western Australian history through undergraduate and postgraduate studies at the University of Notre Dame Australia. He has been applying his research skills to his work as a Heritage Advisor for the Town of Claremont and Manager of Heritage for the Archdiocese of Perth. Currently, he is also pursuing a PhD at the University of Western Australia on the relationship between the Catholic Church and government in Western Australia during the colonial period.
Odhran has been busy interviewing Sisters in this Jubilee Year of Mercy, creating memories of the Mercies of Western Australia. These stories are in celebration of the 170 years that have passed since the arrival of the first Sisters of Mercy in Australia. Below is his lively interview with Sr Breda O'Reilly, pictured here on the top verandah of the convent in Perth where she and many Sisters once slept many years ago.
Sr Breda O'Reilly RSM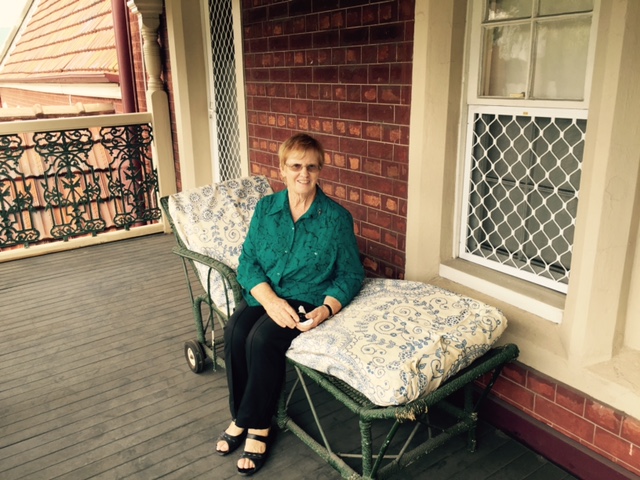 Breda O'Reilly is one of those rare and captivating storytellers – a born teacher. We thank her for sharing her tales!
During her final year of school in 1961, Breda volunteered to become a postulant when a group of Sisters of Mercy came from Western Australia to visit her school in Booterstown, Dublin. Her trip to Perth, accompanied by five other girls, was historic in two ways: they were the first to travel by plane; and one of the last groups to come from Ireland. On arrival she was given a bed out on the verandah as 'the place was packed out'.
Three and half years after arriving as a junior professed sister, Breda began teaching in a school on Havelock Street, West Perth. She was told that the parents were busy people and rarely visited the classroom. However, once Breda started teaching they were constantly popping in. 'Why?' she asked someone. They replied – the parents wanted to see the person who was teaching their children to read in an Irish accent! Decades later she is still teaching English to migrants and laughs when she hears people from all different parts of the world reading like a Dubliner.
Breda continues to witness the mission of the Mercy Sisters in her work at Mercedes College as Pastoral Minister.
Messages to: Annie Medley
The Mercy Heritage Centre Perth Facebook page and this article can be found at https://www.facebook.com/MercyHeritageCentre/